The full form of USB is Universal Serial Bus. 
The USB is primarily and extensively used to connect two devices for the purpose of data and information sharing with incredible speed and accuracy. USB helps and assists external devices and peripherals to connect to computer system for data sharing.
What is USB in Computer System?
The full form of USB is Universal Serial Bus.
The USB is a plug and play interface and the USB device are called plug and play devices, these type of USB devices does not require additional drivers for installation and proper functionality.
The USB interface helps computers to communicate between other devices and peripherals.
With the assistance of USB drives, the computer can communicate with other devices, such as printer scanners, with the help of USB we can connect devices like keyboard, mouse, music player, and flash drives.
Connectors are developed to let computers easily be connected to other devices through USB, a standard interface with multiple ports, cables, and connectors.
The USB (Universal Serial Bus) is an industry standard and globally accepted; therefore it is widely used and utilized to transfer digital data from one location to another.
The USB port and USB devices with USB cables are used to transfer data and information between them, also provide power for better functionality.
The USB cable has too many advantages, like it is easily plugged and play, the data transfer rate is high, and there is less use of connectors because of USB.
USB standards are available in both wired and wireless versions.
The first USB (Universal Serial Bus) was released in 1996 January, and it was quickly accepted by companies like Intel, Compaq, and Microsoft.
What is the Full Form of USB in Computer With Image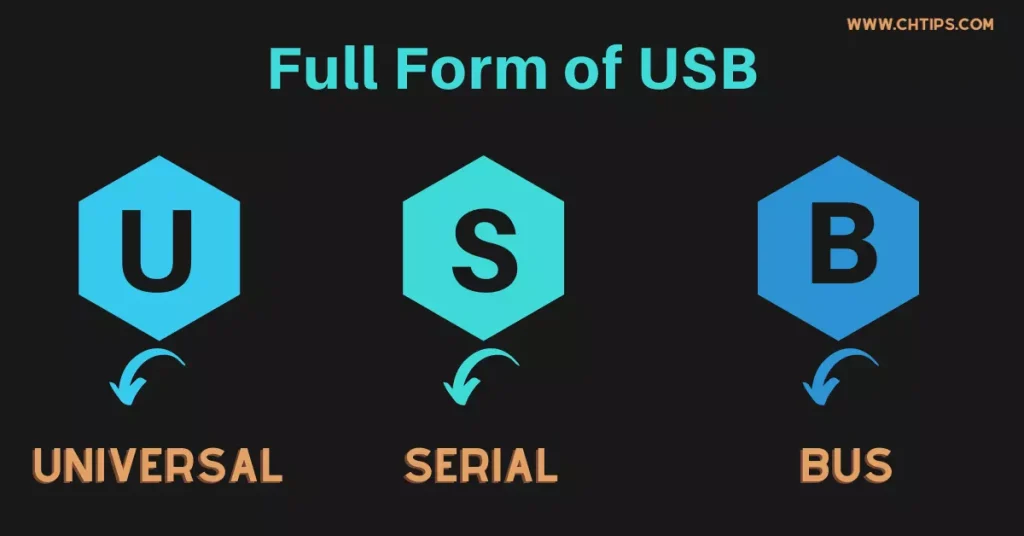 Examples of USB
Type-A
All cables have type-A connectors on one side; all peripheral devices (such as keyboards, mouse) have type-A connectors on one side; and a personal computer usually has multiple Type-A ports; in other devices and power adapters, type-A ports are used for data transfer and charging.
Type-B
This connector looks almost square and connects printers and other power devices to computers. It is not as widespread as the type-A connector.
Mini-USB
The Mini-USB was the standard connector type for mobile devices when the micro-USB connector type was unavailable.
As we know from its name, mini USB is smaller in size when compared to regular USB and is used in cameras with non-standard connector types.
Micro-USB
These are used in today's generation and other portable devices; standard USB cable is used in all types except in Apple.
Type-C
This is a reversible cable which has a higher transfer rate and is more power compared to other USB types; because of its brilliant features, this is used in standard laptops, desktops, tablets, and smartphones.
Who Invented USB?
The invention of the USB is from the hand of an Indian who invented the USB in 1996. Ajay Bhatt was born in Gujarat; he has been intelligent kid from his childhood, also had an interest in technology.
Ajay Bhatt completed his school from Maharaja Sanjivrao Mahavidyalaya, and he completed his Master's degree from the The University of New York from the USA.
Ajay faced too many problems while starting his career and later he joined Intel Corporation.
There were so many problems faced while the invention of USB, but Bhatt presented his idea before the company, and then he started the production.
People who worked with Bhatt in 1995 gave USB a proper shape, and it was released in the market in 1996, and now it is a valuable product in the market.
What are the Uses of USB (Universal Serial Bus)?
They are used to store data and information permanently.
They are capable of installing applications and software's.
They are compact and hence can be easily carried from one place to another.
Modern USB drives come in huge data storing capacity and therefore they are widely used globally.
They can be used to scan viruses from computer system.
Advantages of USB
The data transfer rate is comparatively faster than other devices.
They do not get easily damaged like CDs and DvDs.
They are inexpensive.
They can be easily connected to any USB enabled device .
They are compact and highly portable.
They are highly reliable and efficient to use.
Need less power for its functionality.
Easy to use and handle.
The perform task and operation with incredible speed.
Disadvantages of USB
They can be easily misplaced as they are small in sized.
They can be a source of spreading viruses and malwares.
It is hard to repair them.
Different Names of USB Drives?
| | |
| --- | --- |
| # | Names |
| 1 | USB Flash Drives |
| 2 | Thumb Drive |
| 3 | Pen Drive |
| 4 | Flash Disk |
| 5 | USB Drive |
| 6 | Memory Stick |
| 7 | Disk-On-Key |
| 8 | Data sticks |
How does USB work in Computer Systems?
USB stands for universal serial bus.
The USB is primarily used to transfer data and information from one device to another. The device which receives data is called "Receiver", and the data sender is called "Sender".
In the sender device, you want to follow these steps:
10 Functions of USB
The USB drives are used for installing applications and software into the computer system.
With the help of USB embedded with antivirus software can scan computer system for viruses and malwares.
The USB are Portable and can be carried from one location to another with software and applications saved inside them.
One USB flash drives can store applications like chrome, Firefox, open office, and other application, all that you can take with you from one place to another.
In most, the digital television USB port is available because you record your program directly on your USB stick which is the scope of your digital video recorder.
The USB stick is also used in installing operating system, also repair operating system without losing important files and folders.
Some important utility software can be saved in pen drives which helps in cleaning hard disk errors for better functionality and usability.
You can encrypt your flash drive (or you buy an encrypted USB), and it is protected with a password which means that you take your important documents are always protected for theft or misused.
The pen drives or USB drives can be password protected using free softwares.
The USB are Plug and Play Devices.
Different Types of USB Ports
USB 1.0: This is the first version of USB, which was released in 1996 maximum speed is 1.5 Mbps which was very low today, but at that time, it was a reasonable speed.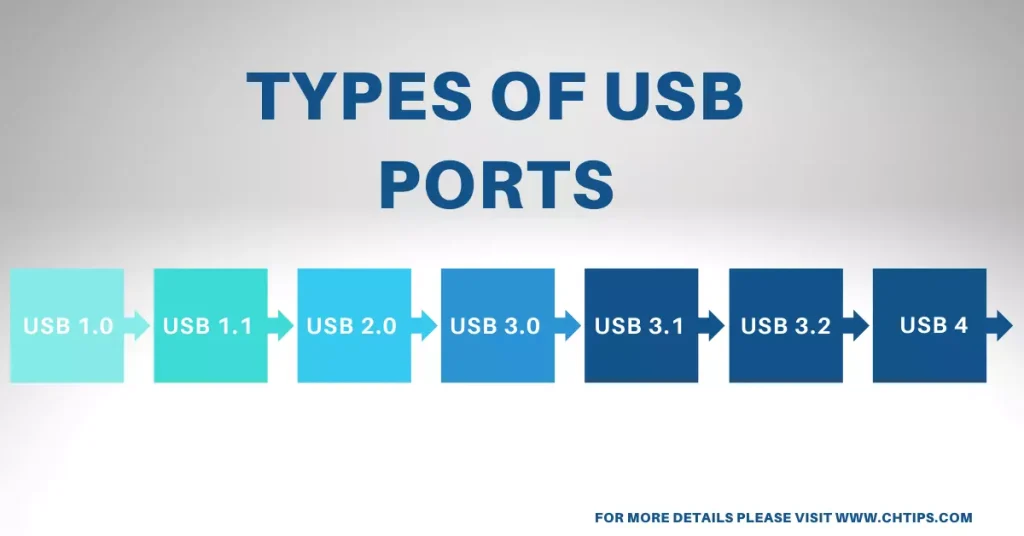 USB 1.1: After 1998 new version of USB 1.1 was released, this is fast than 1.0; that's why it is called Full speed. The data transfer rate is 12 Mbps.
USB 2.0: In 2000 USB, 2.0 version was released, which has a fastest speed of 480 Mbps; it is known as high speed, therefore was more popular than previous versions.
USB 3.0: In 2008, USB new version was released, USB 3.0, which is now known as USB 3.1 Gen 1 and 3.2 Gen 1*1, which has a speed of 5 GBPS, which is fastest that's why it is known as super speed.
USB 3.1: USB 3.1 was known as USB 3.1 Gen 2 and 3.2 Gen 2*1, which was launched in 2013 which has a speed of 10 GBPS which is two times more than the last version, and it is known as super speed+ with this connector was launched means USB type-C.
USB 3.2: In 2017, USB 3.2 other version was released, known as USB 3.2 Gen 1*2 and 3.2 Gen 2*2, whose speed is 20 GBPS that speed has more than the last generation of USB.
USB 4: In 2019, USB 4 was released, whose maximum speed is 40 Mbps, and it has thunderbolt support; this is the latest version of USB.
Some USB Devices
Keyboard
Mouse
Tablet
Webcams
Smartphone
Microphone
Printer
IPod or other MP3 player
Digital Camera
External Drive
Scanners
Describe USB 2.0 port
USB 2.0 was launched in 2000. This is a very successful version because it is used in almost all devices today.
This USB uses a maximum data speed of 480 Mbps, 2.5V and 1.8 A power supply.
Related Articles 
How Does USB Transfer Data?
You need a data cable to transfer data from your mobile to your computer if you want to transfer data from your mobile to your computer using FTP (File Transfer Protocol).
One end of the cable is connected to the mobile and other end is connected to the computer system for data transfer.
After connecting the data cable to your mobile and computer, you will see a USB charging option on your mobile after clicking, this file transfer option will be displayed.
Later the mobile is connected to computer system, furthermore the files and information's are transferred without any disturbance.
The data and information can be transferred without the any wired connection.
Wi-Fi Network
Wi-Fi Network does not require any cables or wires for data and information transfer from one location to another.
Mobile Hotspot
With the help of a Wi-Fi network, you connect with your laptop or computer to transfer data; another technique is to use your mobile hotspot to transfer.
In this type, you can transfer data from your mobile's hotspot to your laptop or computer and share data, files, videos, photos, documents, and any file you need to transfer.
Mobile data is premium, but the hotspot and Wi-Fi are free of cost; you can use them without any problem.
Mobile Data
Mobile data is the premium method to transfer data in that files are transferred with an internet connection, but Wi-Fi connection and hotspot are free of cost; this also has the same use we use from data file transfer.
How USB is Connected to Computer or Laptop
First, you want to connect one end of the USB to the computer and the other to the mobile, and then you charge automatically and allow the data option to appear on your mobile and laptop.
Frequently Asked Question [FAQs]
Is Pendrive A USB?
Yes, Pen drives use USB technology.
What is the latest USB standard?
Which is Faster USB-A or C?
The USB-c is able to charge devices up to 20 times faster than basic USB.
Most Costly USB Device
The most expensive flash drive worth straggering $36,000.
Get In Touch
I have also written and compiled some articles on computers and telecommunications, and please go through them.
I hope that all the questions and queries related to the What is the full form of USB in Computer System | USB full form has been answered here.
I hope you will like reading it.
If you have any questions related to what does USB stands for in computer technology and language.
Don't hesitate to get in touch with me, and if you need to add, remove or update anything from the article, please let me know in the comment section or via email.
I will be more than happy to update the article. I am always ready to correct myself.
Please share this article with your friends and colleagues; this motivates me to write more related topics.
!!! Thank You !!!