Introduction
Full Form of NAS is Network Attached Storage
In today's, post we are going to learn and discuss what is the full form of NAS in computer | NAS full form.
The NAS is a technology where data is stored in hard disk drives. The data sharing can be done with the help of networking where all the hard disk drives are connected to each other.
| | |
| --- | --- |
| N | Network |
| A | Attached |
| S | Storage |
Let us dig into the topic in more detail.
What is NAS in Computer?
The network-attached storage is a storage medium with the help of internal and external storage it stores data and information.
In a computer network, they are capable of sharing data, information's and instructions across the computers in networking.
It allows multiple computers to send data continuously as well as can share files individually to individual computers in a network.
In a network, if one of the computers is turned off or disconnected then its files and data are not available for the other system to access.
In the centralized storage, a location computer can store the data and access it with the help of a NAS, every computer here on behalf of sharing its files they shared the stored data in the single NAS server.
It gives simpler and more reliable ways to share the files in a single network.
Full Form of NAS in Computer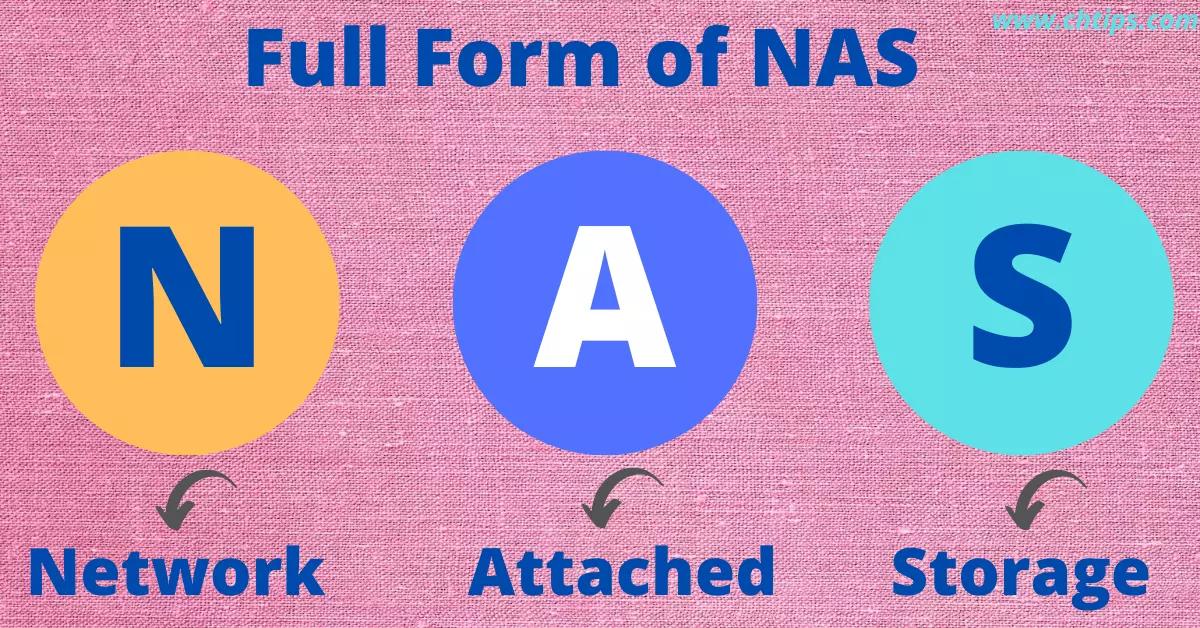 What is NAS storage and how it works
Network Attached Storage (NAS) is a dedicated server also known as a machine and is used for file storage and sharing purposes.
A hard drive is attached to a network and used for storage and they are accessed through a network that is assigned to it.
It gives more additional storage space to the available network even when the system is shut down or during maintenance.
NAS handles unstructured data such as audio, video, text files, and Microsoft documents.
The purpose of NAS is to enable the users to collaborate and share data more successfully.
In NAS we can connect multiple hard drives for the purpose of data storage. If any error occurs in the HDD Still the data can be received with the help of NAS.
The data and information is secured with NAS also it does not delete any data.
We access data in the centralized form. We can connect the NAS to the network with the help of a router, switch, or HUB.
Therefore the data can be used and accessed in the computer network in a centralized manner just like cloud.
It can be remotely accessed anywhere if we connect the internet to it.
What are NFS and NAS?
Network File System is the full form of NFS it is used for the distribution of file systems this NFS was developed by Sun Microsystems in 1984.
It has a client-server architecture, which contains a client program, server program, and a protocol that helps for communication between the client and the server.
It runs on the protocol in which the users are allowed to access the data and files remotely over the network.
Any users can operate files as same as if they were like on other protocols, this protocol is built on the ONC RPC system.
These protocols were used in those computing environments where the centralized management of resources data is critical.
It uses the Transmission Control Protocol (TCP) and User Datagram Protocol for accessing and delivering the data and files.
This protocol is used with Apple Mac OS, UNIX, and Unix-like Operating system such as Solaris, Linux FreeBSD, AIX.
Related Articles 
What is the Difference Between SAN and NAS?
| | |
| --- | --- |
| NAS | SAN |
| NAS is a piece of storage attached to the network with the help of a network cable or a wireless device acting as a NAS. | SAN is basically is an array of disks that are connected to the server through a special network. |
| A NAS contains multiple hard disks which contain be set up for redundancy or various different configuration based on your business needs. | With SAN we get direct access to the storage just like it is your local hard drive this can make an incredibly fast storage solution if it is configured correctly. |
| NAS can be setup as a software-based device it can be used as a free tool to simulate hardware-based NAS storage. | SANs infrastructure consists of a dedicated network, which comprises fiber-optics, special connecting hardware, and enterprise-level storage systems. |
| NAS is a file-level storage technology, which provides file-based data storing services to multiple devices on a network. | To manage the SAN network, you need to have knowledge about low-level block protocols, FC switches, optical cables, and many more. |
Get In Touch
I have also written and compiled some articles on computers and telecommunications please go through them.
I hope you will like reading it.
I hope that all the questions and queries related to What is the Full Form of NAS in Computer | NAS Full Form has been answered here.
Please feel to contact me and if you need to add, remove or update anything from the article please let me know in the comment section or via email.
I will be more than happy to update the article. I am always ready to correct myself.
Share this article with your friends and colleagues this motivates me to write more on the related topics.
!!! Thank You !!!