The Full form of UPS is Uninterruptible Power Supply. UPS is an electronic device that is connected with a battery.
In our day-to-day life, we often face power cuts & this power failure doesn't affect our other electronic devices like fans, coolers, AC, refrigerators but it is not the same for our computer system.
To work and function properly computer system needs to shut down in a proper manner otherwise it corrupts the operating system and sometimes damages the Hard disk drive.
In this post, we are going to learn the advantages and disadvantages of UPS [Uninterruptible Power Supply] the pros and cons of using UPS, also the drawbacks and benefits of UPS.
Let's start.
What is UPS [Uninterruptible Power Supply]?
The UPS stands for Uninterruptible Power Supply or Uninterruptible Power Source. UPS was invented by James E. Casey on 28th August 1907 in the Washington United States of America.
UPS is used as an alternative power supply. These UPS works as a backup source of power supply.

imagine you are working on your computer and suddenly there is a power failure or power shut down, in that case, your computer will be forcefully turned off, and any unsaved data | or information will be lost.
To avoid this situation UPS is used broadly.
As many of us know that RAM [Random Access Memory] is a volatile memory and it cannot store or hold data when there is no power supply.
Therefore UPS is used which works like an inverter that offers backup power even if there is a power cut according to the manufacturer and product the backup time varies.
The backup time of a normal home UPS ranges from 15 minutes to several hours.
These UPS also protects our computer hardware devices from electric surges. Almost every UPS converts AC [Alternate Current] to DC [Direct Current] back to the inverter with the help of a rectifier.
Many UPS comes with voltage regulations and stabilizers.
The UPS is considered a very important device for the protection of computer systems because of the benefits and advantages it offers.
Types of UPS and Their Functions?
The UPS is available in the market with various designs, shapes, performances, and capacities with distinct characteristics.

Due to the amazing benefits of UPS, they are found to be more popular among computer users.
Below I have mentioned some of the types of UPS.
Standby
Line Interactive
Standby online hybrid
Standby-Ferro
Double Conversion On-Line
Delta Conversion On-Line
As there are numerous advantages and disadvantages of UPS, therefore, one should be aware of the pros and cons of UPS before purchasing them from the market.
Advantages and Disadvantages of UPS
Below I have mentioned some of the advantages and disadvantages of UPS in simple language.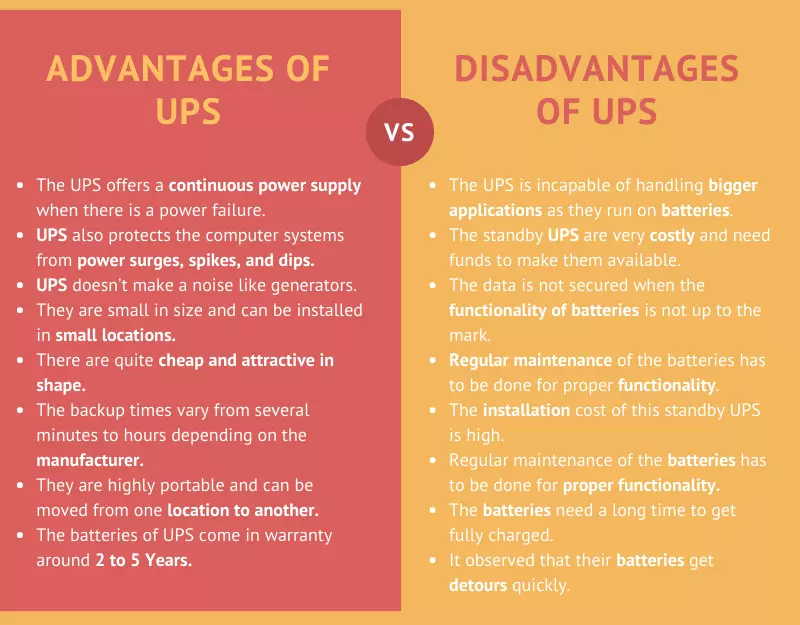 Related Articles
Benefits and Advantages of UPS
The UPS is a very useful electronic device that helps users to work without any interruption when any power failure occurs.
Due to its significant features below, I am going to mention some of the advantages of UPS in points.
The UPS offers a continuous power supply when there is a power failure.
UPS also protects computer systems from power surges, spikes, and dips.
They also regulate and distribute power according to the needs of the system.
UPS doesn't make a noise like the generators.
It switches immediately to alternate power after a power break.
UPS also stabilizes electric current-like fluctuations it also works as a voltage stabilizer.
Modern UPS comes with a handy warranty and guarantee.
The data is almost secure when the computer system is connected to UPS in case of power failure.
Modern UPS batteries are strong enough to provide continuous and long backup hours which makes them very handy to use and of course, it is one of the major advantages of using UPS.
The modern UPS is also used for data | and information protection.
They are small in size and can be installed in small locations.
They are quite cheap and attractive in shape.
The backup times vary from several minutes to hours depending on the manufacturer.
They are highly portable and can be moved from one location to another.
For the installation of UPS, no professional guidance is required can be easily done by the home user.
The batteries of UPS come with a warranty of around 2 to 5 years.
Drawbacks and Disadvantages of UPS
No doubt the modern UPS has enormous benefits but during the span of time, some disadvantages of UPS had been observed.
Which I have mentioned below.
The UPS is incapable of handling bigger applications as they run on batteries.
It observed that their batteries get detoured quickly.
The batteries need a long time to get fully charged.
In a big organization, we need a separate place to install UPS and Investors.
The maintenance cost of the UPS is on the higher side.
The standby UPS are very costly and need funds to make them available.
The installation cost of this standby UPS is high.
Regular maintenance of the batteries has to be done for proper functionality.
The UPS runs on batteries, therefore, cannot be used in an application that uses more power for its functions.
Bigger UPS and Invertor are not highly portable.
The data is not secured when the functionality of batteries is not up to the mark.
Some of the manufacturers do not cover UPS warranties on time as promised.
Famous Manufacturer of UPS
APC
Microtek
Intex
Zebronics
Luminous UPS
V-GUARD
IBall
Frequently Asked Questions [FAQ]
Applications of UPS
Data Centers
Banks and insurance
Industrials
Colleges
Universities
Hospitals
Manufacturing Companies
Software companies
Benefits of UPS for Computer
Protection From Power Outages
Protection From Power Variances
Data Protection
Saving Time
Safe Work
Function of UPS
Absorb power surges.
Smooth out noisy power sources.
Backup.
Stabilize current and voltages
Monitoring of the power supply.
Related Articles
Get In Touch
After reading this post it is clear that the single UPS cannot be fitted into all the requirements.
Therefore we must select UPS according to our needs and requirements.
Users' requirements are kept in mind before designing and manufacturing UPS which suits their purposes like which application they might be using or what will be their power consumption etc.
I hope that all the questions and queries related to the advantages and disadvantages of UPS are being answered here with the pros and cons of UPS.
If you have any questions related to the drawbacks and benefits of UPS.
Please feel to contact me and also if you need to add or remove something from the article which I may have forgotten to do so, please feel free to chat with me in the comment section.

Share this article with your friends and colleagues this motivates me to write more on related topics.
!!! Thank You !!!