Introduction
In this article, we will learn and discuss the 

advantages and disadvantages of USB flash drives |benefits and drawbacks of USB flash drives

 with meaning, examples, purpose, and functions.
The USB drives are considered to be external storage devices that are non-volatile memory.
The USB flash drives are extensively used because of some of their silent feature therefore they have easily replaced other storage devices like CDs, DVDs, floppy disks.
The USB devices are capable of transferring data and information at high speed with great efficiency.
They can be connected to the computer system with the help of a USB connection to the computer motherboard.
These devices do not need an additional power supply as they receive the required power directly from the USB port which is attached to the computer motherboard.
They are compact in size in lightweight they are very popular in all the sectors of human society.
The USB drives are generally used in data and information transferring also taking important backups.
What is USB Flash Drives With Examples and Images?
The USB flash drives are usually known by different names like USB flash drives, data stick, pen drives, thumb drives, data stick
Flash drives are small, portable devices compared to hard disk drives and optical disk drives.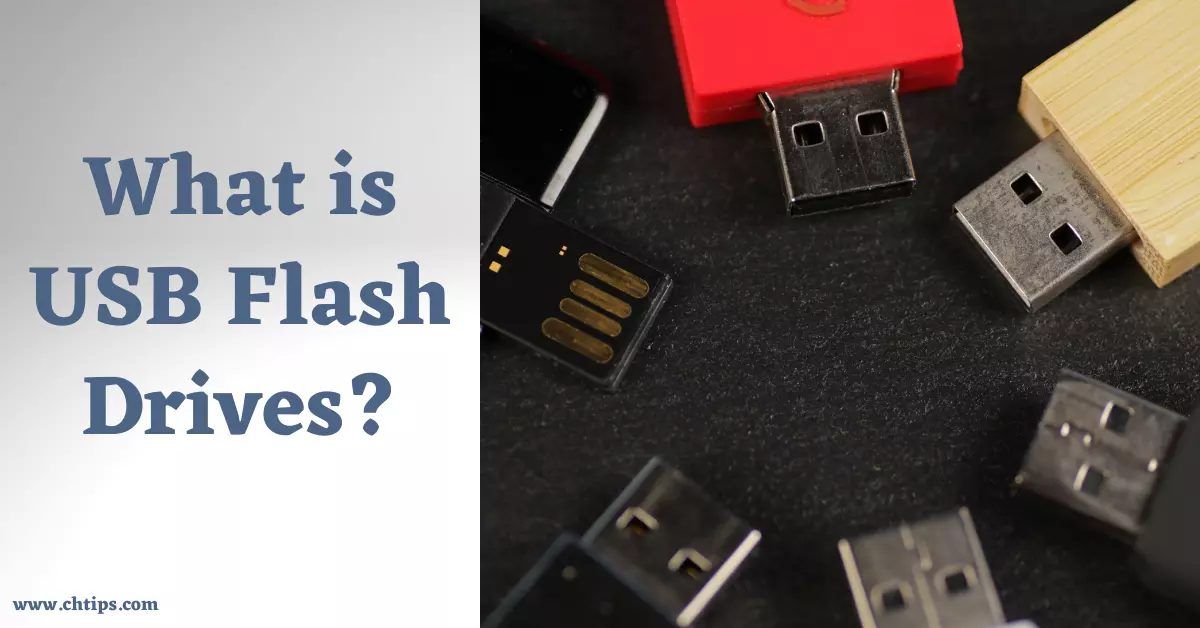 Essentially, a jump drive is a portable device that is the size of a human thumb connected to a computer with a USB port.
The technique is simple, storing and transferring information between flash drives and computers.
Flash drives only have one circuit memory chip that stores the data, and within the plastic aluminum case, there is one circuit memory chip.
A USB flash drive is a secondary storage device that uses the USB interface to read and write data and information. Using a USB cable makes it easy to back up the data compared to other storage media.
It requires the least amount of time and is more beneficial than floppy disks, where it stores the least amount of data, and Flash Drives, where the largest amount of data is held.
An ordinary USB flash drive consists of a USB connector inside a plastic or rubber case that is well protected and electrically insulated and a printed circuit board with surface-mounted integrated circuits.
Advantages and Disadvantages of USB Flash Drives | Benefits and Drawbacks of USB Flash Drives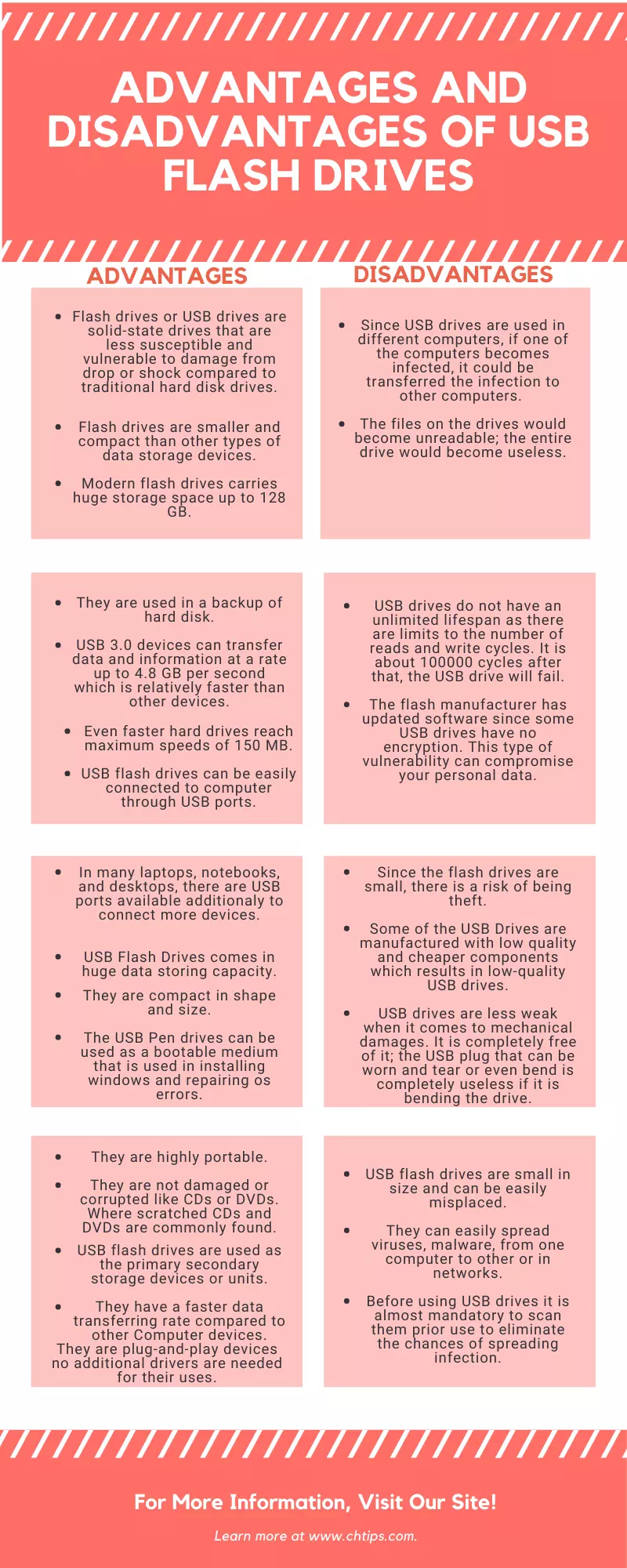 Benefits and Advantages of USB Flash Drives in Points
Flash drives or USB drives are solid-state drives that are less susceptible and vulnerable to damage from drop or shock compared to traditional hard disk drives.
Flash drives are smaller and compact than other types of data storage devices.
Modern flash drives carries huge storage space up to 128 GB.
They are used in back up of hard disk.
USB 3.0 devices can transfer data and information at the rate up to 4.8 GB per second which is realtively faster than other devices.
Even faster hard drives reach maximum speeds of 150 MB.
USB flash drives can be easily connected to computer through USB ports.
In many laptops, notebooks, and desktops, there are USB ports available additionaly to connect more devices.
USB Flash Drives comes in huge data storing capacity.
They are compact in shape and size.
The USB Pen drives can be used as a bootable medium that are used in installing windows and repairing os errors.
They are highly portable.
They are not damaged or corrupted like CDs or DVDs. Where scratched CDs and DVDs are commonly found.
USB flash drives are used as the primary secondary storage devices or units.
They have a faster data transferring rate compared to other Computer devices.
They are plug and play devices no additional driver are needed for thier uses.
Drawbacks and Disadvantages of USB Flash Drives
Since USB drives are used in different computers, if one of the computers becomes infected, it could be transferred the infection to other computers. The files on the drives would become unreadable; the entire drive would become useless.
USB drives do not have an unlimited lifespan as there are limits to the number of reads and write cycles. It is about 100000 cycles after that, the USB drive will fail.
The flash manufacturer has updated software since some USB drives have no encryption. This type of vulnerability can compromise your personal data.
Since the flash drives are small, there is risk of being theft.
Some of the USB Drives are manufactured with low quality and cheaper components which results in low quality USB drives.
USB drives are less weak when it comes to mechanical damages. It is completely free of it; the USB plug that can be worn and tear or even bend is completely useless if it is bending the drive.
USB flash drives are small in size and can be easily misplaced.
They can easily spread viruses, malwares, from one computer to other or in networks.
Before using USB drives it is almost mandatory to scan them prior use to eliminate the chances of spreading infection.
Also Read ::
Purpose of USB Flash Drives
The main purpose of USB flash drives is to provide storage for storing data and information.
The size is small, but it does not affect its storage capacity. USB flash drives store different data types, and their holding capacity is about 2GB or more.
This is an external way to store files instead of taking space in internal storage, and it is used in taking backup of our data.
Examples of USB Flash Drives
USB flash drive is also known as a USB thumb drive, USB stick, or Pen drive. It is a lightweight storage device.
The modern digital camera uses compact flash memories which are used in storing images.
SSD stands for solid-state drive, and it is used in internally mounted storage expansion cards as per computer industry specifications.
A memory card is also known as a "Flash Memory card," It is a storage medium of different data types such as images, video, or text.
USB Drives functions
USB flash drives are used in storing

 documents, text files, spreadsheets, PDF files, software, audio, and videos. 
They are capable of storing very important as well as sensitive data and information almost permanently without getting damaged or corrupted.
They are also very potent in transferring data and information from one location to another easily.
Flash Drives and Pen Drives
They are small electronic chip which is used in storing information as well as transferring this information from one location to another without any fuss.
The pen drives are small secondary storage devices that can easily exchange information and can be kept in the pocket for transferring them from one location to another.
Due to its compact size, the pen drives are highly portable.
They are non-volatile memory storage device that does not lose data and information when there is a power failure they are permanent storage device and are highly reliable.
They are removable disks that are connected to the computer via a USB Port.
Famous Manufacturer of Pen Drives and USB Flash Drives
Transcend
Kingston
SanDisk
I-Ball
HP
Seagate
Western Digital
Samsung
Get In Touch
I have also written and compiled some articles on computers and telecommunications, and please go through them.
I hope you will like reading it.
I hope that all the questions and queries related to 16 advantages and disadvantages of USB flash drives | benefits and drawbacks of USB flash drives with meaning, examples, purpose, functions, and importance in easy language have been answered here.
If you have any questions related to the pros and cons of USB flash drives.
Don't hesitate to get in touch with me, and if you need to add, remove or update anything from the article, please let me know in the comment section or via email.
I will be more than happy to update the article. I am always ready to correct myself.
Please share this article with your friends and colleagues; this motivates me to write more related topics.
!!! Thank You !!!