In this article, we are going to discuss on 8 Advantages and Disadvantages of SSL as well as the limitations and benefits of SSL with the Pros and Cons of SSL which are explained in easy-to-understand language with illustrative examples.
In this modern era, all the activities which took long hours to accomplish can be easily done with the fingertips just as online shopping, online banking, and funds transfer with UPIs, debit cards, and credit cards.
Banking used to be a hectic job and previously saw long queues before the bank for transactions but these tasks now can be done sitting on your couch drinking coffee with just a few clicks at your own pace and time.
It has been observed that the amount of online activities has been increased dramatically and hence online fraud creeped into our society therefore to avoid such incidents SSL [secured socket layer] was introduced.
which has played a vital part in handling such activities as they encrypt the data and information before transferring these data further also it is hard to decrypt the data along with information and hence users feel safe and comfortable while accessing these websites which are SSL enabled.
SSL stands for Secured Socket Layer.
TLS stands for Transport layer security.
HTTP stands for Hypertext Transfer Protocol.
HTTPS Stands for Hypertext Transfer Protocol Secured.  
Let's explore the topic in detail.
What is SSL
The Full form of SSL is Secured Socket Layer.
The development of Secure Socket Layer (SSL) was started by Taher Elgamal an Egyptian cryptographer who was also a scientist at Netscape Corporation a famous organization of its time.
SSL is a technology that is used to establish a secure connection between the browser and the server. SSL is responsible for playing a vital role in the process of data exchange and data transfer.
SSL encrypts data and information using cryptography when the data is about to transfer.
This encrypted data is very difficult to decrypt and hence they are safe from hackers which can misuse your personal and sensitive information.
This SSL is normally found on the websites like E-commerce, banking, Government where online transactions are performed.
In other words, this SSL can be considered a SECURITY PROTOCOL.
The SSL has two keys one
Public Keys are known to the sender as well as the receiver. Private Keys are known to receivers only.
You can easily distinguish whether a website is using SSL or not.
If a website's URL starts with HTTP this denotes they are not using SSL whereas if the URL starts with HTTPS the website has installed SSL.
For Example
http://www.chtips.com SSL Disabled
https://www.chtips.com SSL Enabled
Also with the HTTPS next to the URL, a green padlock sign appears denoting an SSL is installed and the website is safe to navigate.

on the other hand, a red sign appears on HTTP websites indicating an insecure website.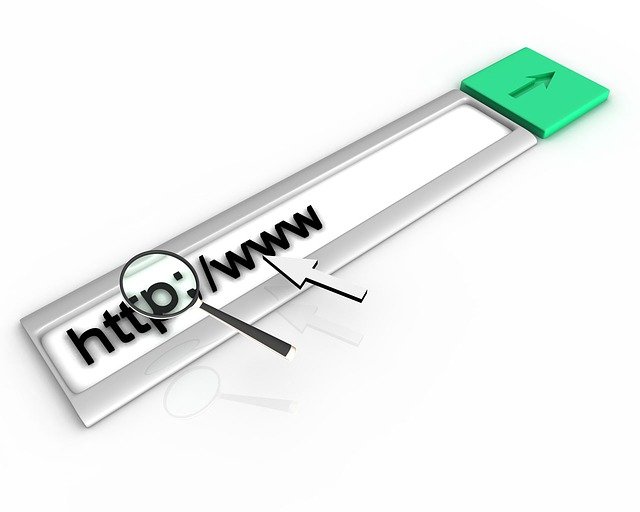 Advantages and Disadvantages of SSL | Limitations & Benefits of SSL
We are going to discuss the advantages and disadvantages of SSL & the limitations and benefits of SSL with pictures and examples.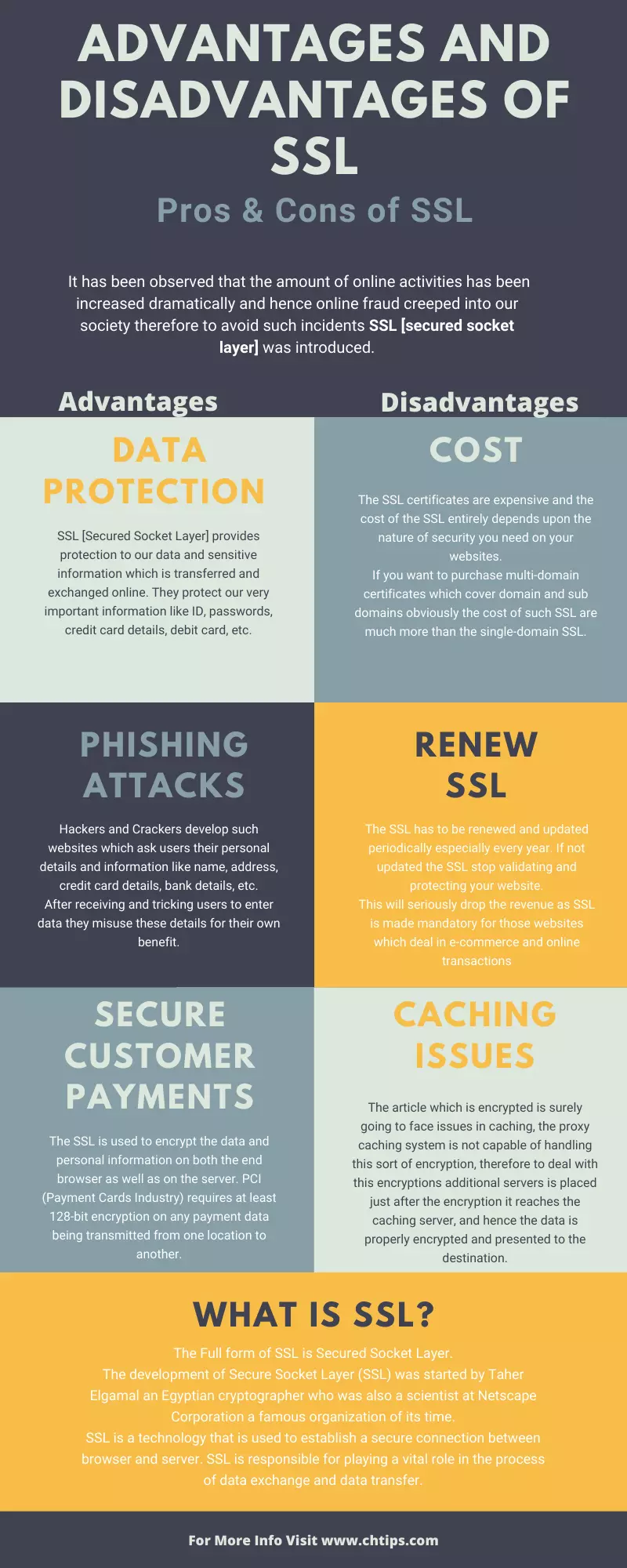 Related Articles
Benefits and Advantages of SSL
The SSL is very useful in protecting websites from unauthorized access also they are capable of encrypting data to avoid data manipulation and violation.
These benefits and advantages of SSL made them very popular and has easily replaced the old HTTP version.
1. Data Protection
SSL [Secured Socket Layer] provides protection for our data and sensitive information which is transferred and exchanged online.
They protect our very important information like ID, passwords, credit card details, debit cards, etc.
SSL helps in the encryption of data using cryptography which is very difficult for hackers and spammers to decrypt and hence our valuable data & information are secured.
 SSL converts the data into some unreadable code & format which can be accessed and used by authorized sources.
The SSL works as a shield from unknown and dangerous sources which can harm and tamper with our important data. This is considered the major benefit and advantage of SSL.
Due to their several advantages, SSL has been extensively used for the last few years.
2. Secure Website
Using SSL makes a website more secure when compared to the HTTP version of a website. Modern browser denotes user whether a website is using an SSL certificate or not.
A green color padlock sign or a locked sign appears next to the URL which indicates that the website is using SSL and it is also redirecting to the HTTPS version of a website which is considered to be more secure and protected.
Using this secure website user feels more comfortable surfing, accessing, and performing online transaction as they know that their data & information is encrypted and secured from hackers and crackers.
Last few years it has been observed that almost every website is shifting to SSL because of its silent features and the amount of awareness that has spread across the globe.
Nowadays SSL is a compulsory matrix for website owners, designers, and developers.
3. Reduce the Risk of Phishing Attacks
Hackers and Crackers develop such websites which ask users for their personal details and information like name, address, credit card details, bank details, etc.
After receiving and tricking users to enter data they misuse these details for their own benefit.
These website links are forwarded and spread using email marketing software and affiliate marketing groups which allows heavy commission for their affiliate sales.
Therefore it is highly advised that without prior investigation never ever disclose your personal details online to unknown sources and websites.
Using SSL on your website also indicates that you're a valid person, company, or group that intends to secure users' data and sensitive information, therefore, have installed an SSL certificate on their domain.
Note: if any of the website owners, bloggers, designers, or developers reading this article it is a request to use an SSL certificate for your website and blog which protects your user details from getting vulnerable.
4. Secure Customer Payments
The SSL is used to encrypt the data and personal information on both the end browser as well as on the server.
PCI (Payment Cards Industry) requires at least 128-bit encryption on any payment data being transmitted from one location to another.
And you may also know that this information that has been encrypted by SSL is secured and cannot be decrypted or read by any third parties.
When there is any transaction happening on the HTTPS website rest sure that the transaction will be encrypted and the details will not be accessible to any other sources except the authenticated ones.
Therefore it is said that websites that use SSL are considered to be more secure and protected for online transactions.
5. Easy to Install
These SSL certificates are quite easy and simple to install on CPanel.  Nowadays the majority of the hosting providers installs SSL certificate prior as they are aware of the advantages and benefits of SSL certificate for clients and users.  
To install an SSL certificate no need for professional guidance is required as anyone without prior technical knowledge can do the task quite easily.
Even the hosting providers help us in installing certificates and activating them on our websites
There are several tutorials which are available on Google and YouTube which can be beneficial for learning to install, activate, and configure your SSL certificates.
6. SEO Ranking
The search engine giant Google has announced that they have updated their algorithm which states that the websites which are using SSL and redirecting their websites to HTTPS version will definitely get an upper hand on the websites which are still not using SSL.
The effect of the Google algorithm can be clearly seen in the fluctuations in the SERP [Search Engine Ranking Pages] ranking.
The majority of the E-commerce and banking website where online transactions are performed have shifted their websites to HTTPS versions which clearly means they have installed an SSL certificate to secure their website from unauthorized access and vulnerabilities.
7. SSL Protects from Google Warning
The Google search engine is constantly updating its algorithms and making the internet a better place to surf and purchase goods.
Many latest and modern browsers are indicating users as unsecured websites ahead of warning if an SSL certificate is not installed.
Therefore SSL certificates must be installed to avoid such warnings and boost the trustworthy ness and brand of users.
8. PCI/DSS Requirements
The websites which accept online payments or online transactions are performed such as websites' SSL certificates made mandatory also the website must be PCI compliant and these websites must follow the rules and regulations mentioned by this authority.
Limitations and Disadvantages of SSL
The SSL certificates are very necessary for the security of websites still they have some drawbacks and disadvantages of SSL which we are going to discuss below just have a look.
1. Cost
The SSL certificates are expensive and the cost of the SSL entirely depends upon the nature of security you need on your websites.
If you want to purchase multi-domain certificates which cover domain and sub-domains obviously the cost of such SSL is much more than the single-domain SSL.
The maintenance and verification protocols make SSL more costly.
still, some of the hosting providers are selling this SSL for free when their hosting packages are purchased even CDN [Content Delivery Network] like Cloud flare also offers free certificates for a number of domains on a single account.
If you are running an e-commerce company or a banking website where online transactions are performed it is highly recommended to purchase an SSL from authorized sources
Therefore the cost of SSL is considered the major limitation and disadvantage of SSL.
2. Performance Handshaking
The SSL makes websites slow. The two ends of the encryption server and browser go for an elaborate handshaking process for establishing a good and secure connection.
Once the connection is established SSL encrypts and decrypts the data and information before they are made available for further processing.
This process of handshaking is done backstage which is not visible to users and results in slow website performance.
3. Redirects
 When you redirect your website from HTTP to HTTPS it is advised to redirect all the traffic from HTTP to HTTPS otherwise Google webmaster prompts errors like mixed content found results in duplicate content which sometimes hampers SEO [SEARCH ENGINE OPTIMIZATION] rankings.
4. Redirects from HTTP to HTTPS
There are several HTTP versions of websites for example 1] http://www.chtips.com, 2] https://www.chtips.com, 3] http://chtips.com 4] https://chtips.com according to us all these URLs are the same but search engines treat all these as different URLs, therefore, websites owners needs to redirect these URLs to their preferred URL else they all will get indexed and result in duplicate content and low search engine rankings.
5. Renew SSL
The SSL has to be renewed and updated periodically, especially every year. If not updated the SSL stop validating and protecting your website.
This will seriously drop the revenue as SSL is made mandatory for those websites which deal in e-commerce and online transactions.
It is not recommended as users may leave your website when an insecure warning indicates on your website also you may lose the branding.
6. Caching Issues
The article which is encrypted is surely going to face issues in caching, the proxy caching system is not capable of handling this sort of encryption.
Therefore to deal with this encryption additional servers are placed just after the encryption reaches the caching server, and hence the data is properly encrypted and presented to the destination.
7. Allows Insecure Encryption
SSL/TLs are capable of the browser and server to decide which form of encryption method they will allow for connection.
These SSL / TLS are very secure and powerful.
This SSL connection sometimes allows low-par servers or outdated servers to establish a connection even select an encryption method
which is very dangerous for the privacy and security of websites as their encryptions are not of quality standard which can prevent modern hackers and spammers.
This process is done backstage so the user on the website will not know that he is using an unsafe website that can harm his personal information.
Related Articles
Types of SSL
There are different types of SSL available in the market.
Multi-Domain SSL Certificate
Wildcard SSL Certificate
DV SSL Certificate
OV SSL Certificate
EV SSL Certificate
Get In Touch
The security and protection of data | and information is the primary objective of any business owner in this modern world.
The business owner must obey and pay respect to the privacy of their clients and users.
The security features of these modern data encryption methods and techniques are enhancing themselves therefore in the future they will play a more important role in the cybersecurity industry.
The points I have made here will be more frequently updated as soon as I come across more news and updates.
I have also written and compiled some articles on computers and telecommunication please go through them. I hope you will like reading it.
I hope that all the questions and queries related to the 8 Advantages and Disadvantages of SSL had been answered here with the pros and cons of SSL.
If you have any questions related to the limitations and benefits of SSL.
Please feel to contact me and also if you need to add or remove something from the article which I may have forgotten to do so, please feel free to chat with me in the comment section.
Share this article with your friends and colleagues this motivates me to write more on related topics.
!!! Thank You !!!