Classification of Computer System:: It is a device which can store a gigantic amount of data or information and can perform numerous calculations and also can perform the different and diverse task given to them.
there are special computers for specific tasks and operations for example for space investigation and exploration, nuclear science, genetic engineering.
Supercomputers are used because they are developed and are specialized in this type of operations and our expertise in this field.
For home use just for entertainment watching movies, songs, and graphics, etc home Personal Computer or desktop computer are suitable for these sort of purposes.
For administrators, executives, representatives, and businessman laptop use is common and is utilized broadly and widely because of its mobility and portability as well as it can be used with the assistant of battery available inside every laptop and surely it can perform each and every task compared to Desktop or Home PC(Personal Computer)
Therefore different classifications of computers can be done with the help of some features they are size, functionality, capabilities, and speed.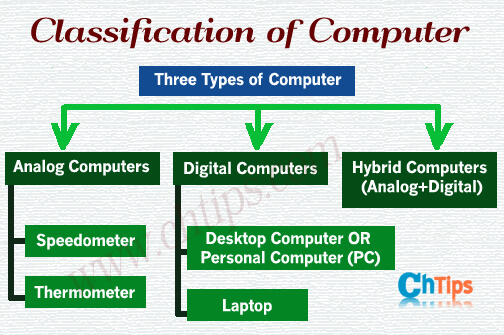 Also Read ::
Three Types of Computer
The Computer are classified into three main types::
Analog Computers
Digital Computers
Hybrid Computers (Analog+Digital)
Analog Computers:: Analog Computer measures "Physical Quantities" for example Temperature, Voltage, Pressure, and Electric Current.
These are the quantities that are continuously varied and persistently change from one measurement to another, just like the temperature of a human being or individual.
They process the given data or instruction or information into analog data or simple data.
They are equipped for measuring instead of counting or checking.
They are also specifically designed for measuring and can perform arithmetical calculations upon numbers where numbers are indicated by physical quantities or physical amounts.
The Analog computer is used in scientific and industrial ventures, where they have to screen temperature, voltages, and electric currents.
Examples of Analog Computer ::
Digital Computers:: The "Digital Computers" can complete or perform Arithmetic and logical operation when given to them in a type of binary number system.
These types of computers are not for measuring physical quantities such as temperature, electric current, and voltages.
Also Read ::
They are high-speed programmable machines or computers which can play out numerous mathematical calculations and can store data or information.
When any instruction or direction was given to them they convert that instruction or data or information into a machine-readable form that is 0 or 1 which is called a "Binary Number System".
Examples::
Desktop Computer OR Personal Computer (PC)
Laptop
Hybrid Computers (Analog + Digital):: They possess both the qualities and features of Analog and Digital computers, they can measure or gauge physical quantities as well as counting or checking and are generally used in scientific and in medical use.
Just, for example, there are some machines that can calculate the heartbeats and temperature of the human body and convert or change them into numbers.