Google Pay is the leading player in the UPI [Unified Payment Interface] industry.
Google has gained the trust of its use by developing highly secure and user-friendly applications for users of any age group.
GPay also offers cashback and discount coupons for their users to encourage them to use their app more frequently when using online mediums for digital transfer.
Now the question is how to redeem Google Pay cashback rewards in 2023.
Follow the Below Step-by-Step Guide to Redeem Google Pay Cashback Rewards
Open Google Pay App from Mobile Device. Enter Your Secured PIN.
Click on the Top Right Corner [Profile Picture Icon].
Click on Reward Earn.
View Upcoming Reward on Your Path.
Scratch the Card Available.
What is Google Pay Rewards?
Google Pay is a money-transferring application that was designed and developed by Google.
Google Pay is one of the most secure, highly used, and utilized among users.
Google Pay uses an additional layer of security therefore globally used for digital payment transfers.
There are various such apps available in the play store, as follows.
PhonePe.
Bhim.
Paytm.
When users transfer funds from one GPay to another Gpay account, Google pays some cashback or discounts coupons or points to encourage users to use their application further.
The rewards are embedded inside a scratch card. Users need to scratch the card available to view their rewards.
Types of Rewards Google Pay
There are basically two types of rewards google pay offers to it users.
Cash Backs.
Discounts Coupons.
The rewards that are cashback are automatically deposited in the bank account that is linked to the GPay.
Sometimes the amount even takes up to 24 hours to get deposited.
Discount Coupons are beneficial when availing of any service or product. The coupons help in receiving a discount on a particular product or service.
The coupon has validity avail inside the period, or it may get eliminated.
Google Pay has a feature where users can change their language for better usability and functionality.
How to Redeem Google Pay Cashback Rewards | How To Use GPay Rewards
Open Google Pay Application from Your Device.
Enter the correct PIN to Enter.
Click on the Profile Picture Icon [Top Right Corner].
Click on Rewards Earned.
Scratch the Card Available.
#1. Open Google Pay Application from Your Device.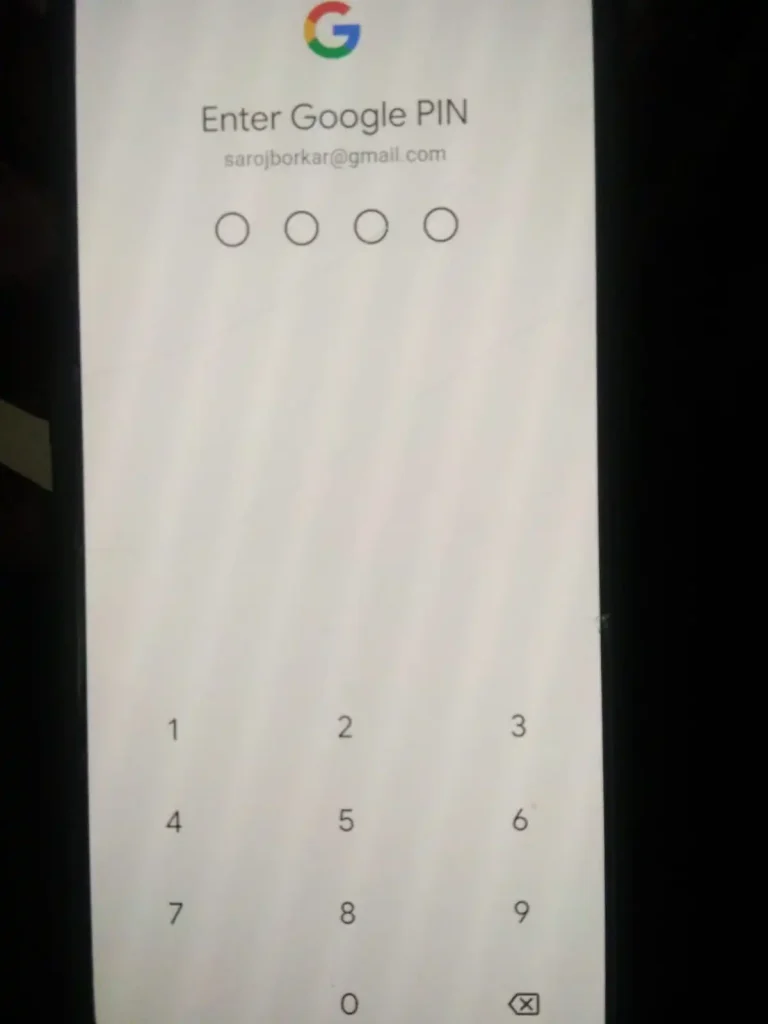 #2. Enter the correct PIN to Enter
#3. Click on the Profile Picture Icon [Top Right Corner]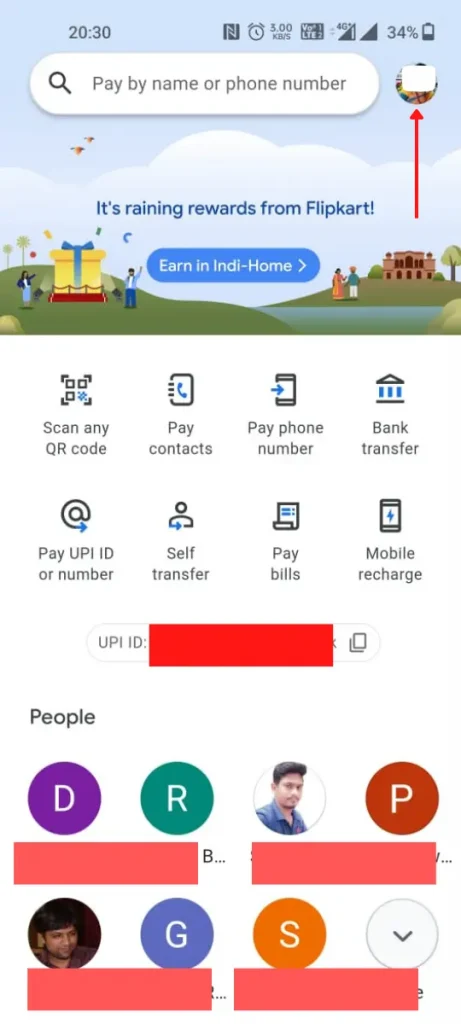 #4. Click on Rewards Earned.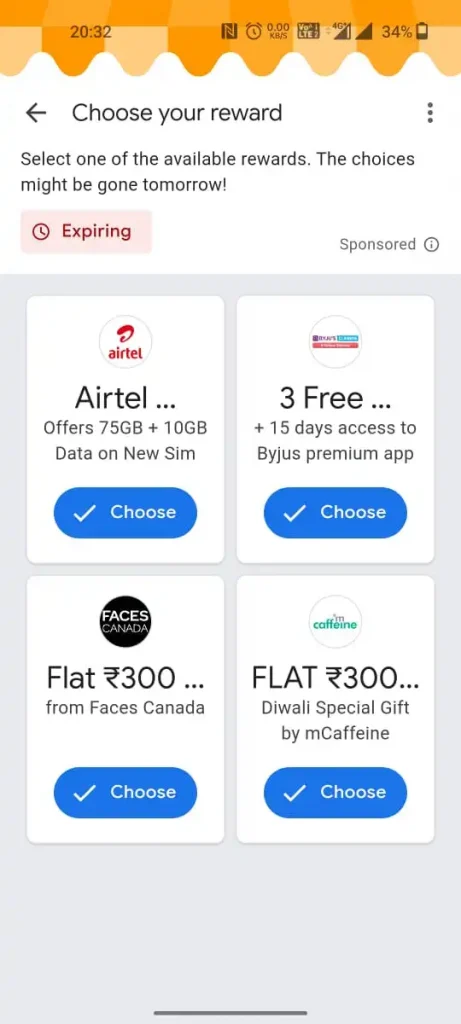 #5. Scratch the Card Available.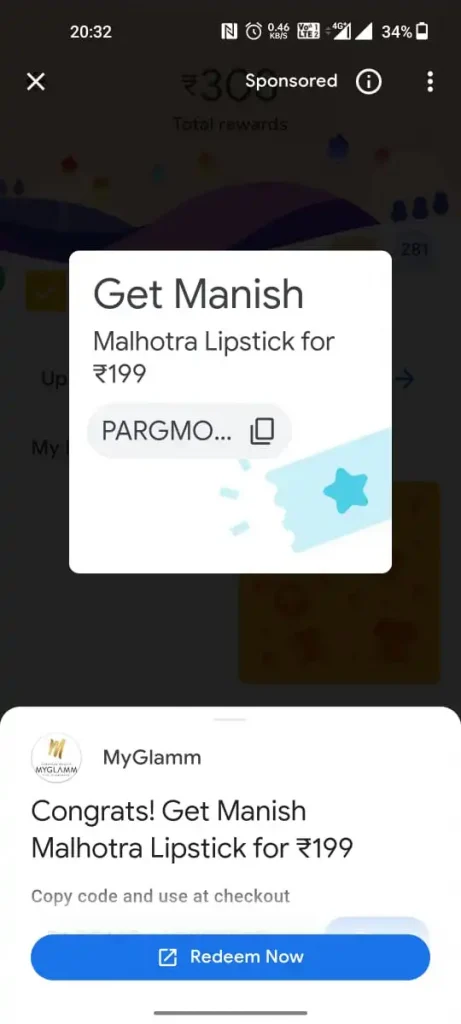 How to Redeem Google Pay Cashback Rewards With Picture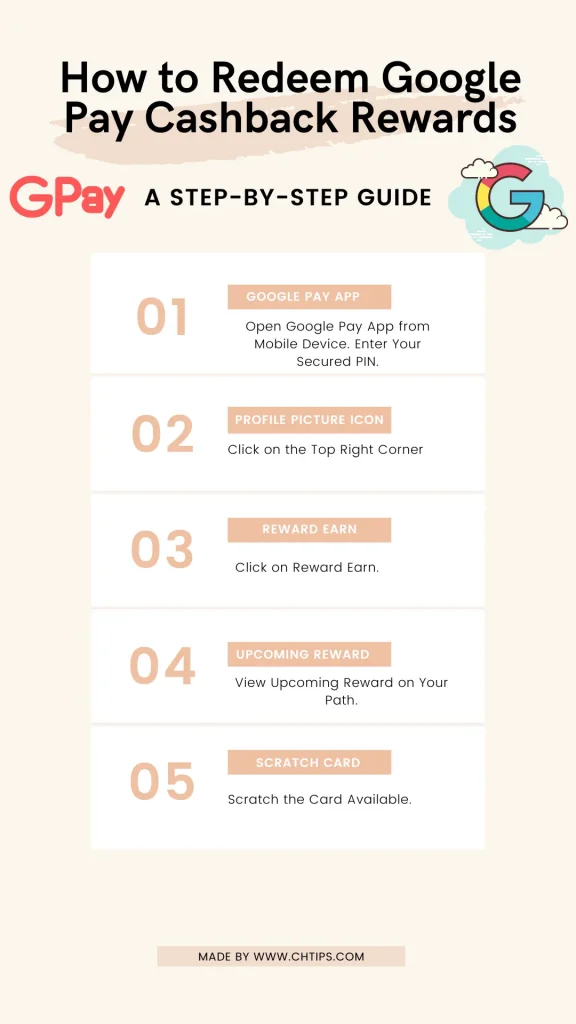 What is the Limit of Fund Transfer Per Day on GPay
UPI stands for Unified Payment Interface, which controls and holds all the funds transferred from one account to another.
UPI is governed by a government organization named "The National Payments Corporation of India (NPCI)".
NPCI comes under the Reserve Bank of India [RBI] and all the Indian Banks Association [IBA].
NPCI is responsible to revised and changing daily funds transaction limits.
Now, every bank has its transaction limit. Some banks may have 1, 00,000 others may have 2 00,000.
| | | |
| --- | --- | --- |
| # | Bank | Limit |
| 1 | Bank Of Baroda | 25000 |
| 2 | Bank of India | 100000 |
| 3 | Bank of Maharashtra | 100000 |
| 4 | Canara Bank | 25000 |
| 5 | HDFC | 100000 |
| 6 | HSBC | 100000 |
| 7 | ICICI | 25000 |
| 8 | IDBI | 50000 |
| 9 | IDFC | 100000 |
| 10 | UCO Bank | 100000 |
| 11 | State Bank of India | 100000 |
Why Google Pay Gives Cashback As Rewards
Google pays cashback and rewards to users to encourage them to use Google Pay App more.
Google receives a commission from every purchase through their app, so with more purchases, Google gains more commission.
Google Pay is mainly operated in US, UK and India.
Google Pay is Used For
Transferring money from one bank to another.
Recharging Fast Tag.
Recharging Mobile Phones.
Recharging Online Resources like TV Channels, OTT Subscription, etc.
Contactless Payment.
Scan any QR code for the transaction.
Used for Online Shopping.
Booking Train and Airplane Tickets, and more.
Check Transition History.
Paying electricity bills.
Google Pays Offers Rewards to their Users.
Online Payment can be Requested from others.
People Are Also Reading
How Long It Take To Deposit Cashback in Your Account
The Google Pay account is linked to your bank account; therefore, the cashback is instantly deposited in your bank.
You can check the bank balance option in GPay App to verify your balance.
Sometimes the balance may take 14 to 20 min or 24 hrs to reflect in the bank account.
How Can I Receive More Cashback From Google Pay
There is no trick or method to receive more cashback from Google pay.
It has been seen and witnessed that the users who are more active in transferring funds from GPay are likely to receive more cashback and rewards from Google Pay.
You can also earn some referral rewards by inviting new users to Google pay and earn up to 100 points.
You receive a referral reward when the user you have invited makes the first GPay Payment to another.
Frequently Asked Questions [FAQs] on Google Pay Rewards
How do I Access My Google Rewards?
Go To Google Pay App
Enter Your PIN
Click On the Top Right [Profile Picture Icon]
Click on The Rewards
Do Google Opinion Rewards Gives Real Money?
It is in the form of cash credit. You can use it during online shopping.
Can Google Rewards be Transferred?
No, this is a gift card specially allocated to the user.
Can I Buy Netflix with Google Play Balance?
No, Use a credit or debit card.
What is the Use of Reward Points?
The Rewards points are in the form of cashback and discounts. Use credit or debit cards to reap the benefits.
Get In Touch
I have also written and compiled some articles on computers and telecommunications, and please go through them.
I hope you will like reading it.
I hope all the questions and queries related to How to Redeem Google Pay Cashback Rewards 2023 are answered here.
If you have any questions about How To Redeem GPay Rewards.
Don't hesitate to contact me, and if you need to add, remove or update anything from the article, please let me know in the comment section or via email.
I will be more than happy to update the article. I am always ready to correct myself.
Please share this article with your friends and colleagues; this motivates me to write more related topics.
!!! Thank You !!!