YouTube is the leading content-sharing website that usually works on video content that is extremely popular around the globe.
YouTube is a video-sharing website that earns money by displaying ads from the advertiser on its platform.
The use and utilization of ad blockers can stop these ads. Therefore YouTube is Blocking AD Blocker.
These ad blockers can be software applications and extensions that are used to eliminate ads from YouTube.
The users and publishers are highly advised to understand and learn YouTube's ad-blocking policy from their official website.
Why YouTube is Prompting Warning to Disable AD Blocker
Let us discuss why YouTube is warning users to turn off AD blockers while using YouTube for viewing videos, and there are several significant reasons behind this.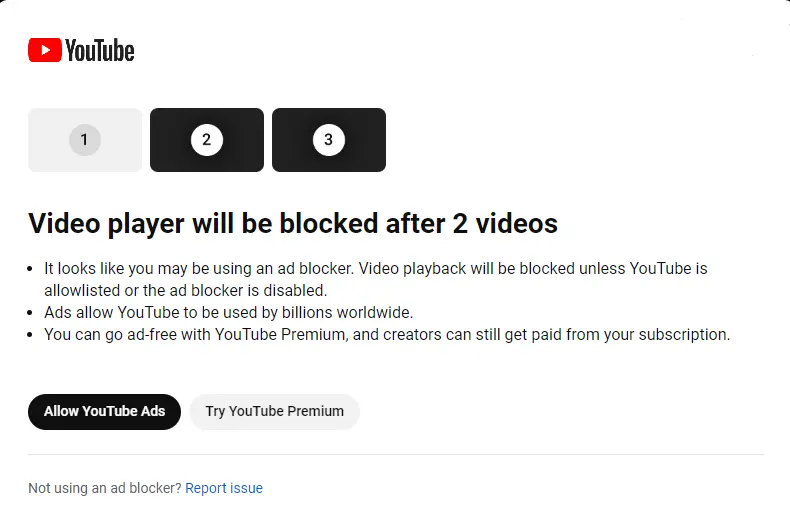 Some of them are mentioned and included below.
Impact on Revenue Generation.
User Experience and Engagement.
Encouraging Publisher to Earn More.
YouTube Terms of Usage.
1. Impact on Revenue Generation.
The main source of YouTube earnings is through advertisements by advertisers.
Adblocker stops or eliminates the ads that can be potentially viewed by users for more purchase and brand awareness.
These ads that are stopped by ad blockers potentially harm the benefits of the advertiser, and the decrease in revenue can be easily viewed.
Also, it negatively impacts advertisements. It significantly reduces the earnings of the publisher and can sometimes be demotivating to create more valued content for their viewer and subscribers.
2. User Experience and Engagement.
YouTube is a free platform where video content is shared free of cost. The revenue and effort it takes to run a large project like YouTube is not imaginable.
YouTube consumes lots of resources and services that are very costly and need huge amounts of money that can only be earned while showing ads on their platform.
Ad Blocker tries to stop these ads from displaying and hence hamper YouTube Earning.
YouTube is a platform where you can learn new skills without paying penne to YouTube just in exchange for watching advertisements from advertisements.
3. Encouraging Publisher to Earn More.
YouTube creators or publishers earn revenue through the advertisements displayed on their content. If an ad blocker blocks this content, it will be very hard for the creators to receive good and healthy income from YouTube.
4. YouTube Terms of Usage.
YouTube has clearly mentioned in its terms of usage section that it is strictly prohibited to use any software, application or plugins that restrict the ads from displaying.
YouTube is Blocking AD Blocker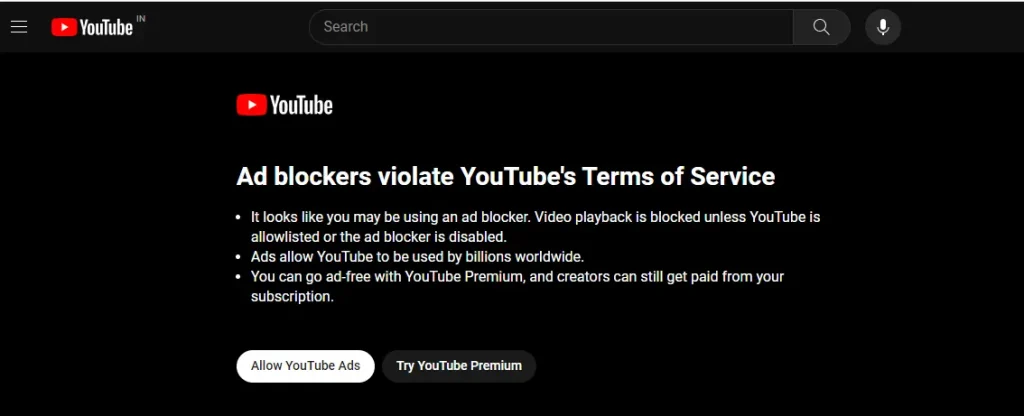 Disadvantages of Disabling AD Blocker
Advertisements sometimes kill User Experience.
User needs and Choices can be violated.
Repetitive ads can be irritating.
You may experience a slow page loading time.
Privacy concerns.
Intrusive Ads, including pop-ups, auto-playing videos, and banner ads.
Data Consumption on Mobile Devices
Distractions, Malware and Security Risks
Useful Video : YouTube is Blocking AD Blocker
YouTube Policy Against AD Blocker
Some various terms and policies must be complied with by an advertiser or content creator.
There are some major significant usage policies for end users that have to be obeyed for a better relationship with users and YouTube.
What Happens If I Don't Block or Uninstall My Adblocker
YouTube recently rolled out a major update related to adblocker. That is a warning that says, please remove your adblocker for better performance and functionality.
YouTube is going to warn users 3 to 4 times, and then they will block the users' accounts. Therefore, it is highly recommended to remove your adblocker from your system.
YouTube considers adblocker a threat as it may contain a malicious program or suspicious code, and hence, "Ad blockers are not allowed on YouTube."
Is it Safe to Use Adblocker After the YouTube Warning?
No.
People Are Also Reading
Frequently Asked Questions [FAQs]
Has YouTube blocked ad blockers?
Yes. According to YouTube to use adblocker is not recommended.
Can YouTube ban you from using AdBlock?
Of course, starting of 2023, YouTube is been Strick on Adblockers.
What videos are illegal on YouTube?
Pornography, Hate content, Abuse language, spreading community hatred and many more.
How many people use ad blockers?
It is estimated more than 45%.
Is there a better alternative to YouTube?
Does Google still own YouTube?
Does YouTube make money if you use AdBlock?
Yes, YouTube makes money by advertising publishers.
Are downloading YouTube videos illegal?
Yes, downloading YouTube videos without permission of the owner is not permitted.
Get In Touch
YouTube wants its users to see the ads that are running on their platform as it is the primary source of income for them.
YouTube also encourages users to create and share original content over the internet for better visibility.
Finally, using adblocker on YouTube is a violation of their terms and conditions.
I have also written and compiled some articles on computers and telecommunications, and please go through them.
I hope you will like reading it.
All the questions and queries related to the YouTube Blocking AD Blocker are answered here.
If you have any questions about the Ad blockers are not allowed on YouTube.
Don't hesitate to contact me, and if you feel to add, remove or update anything from the article, please let me know in the comment section or via email.
I will be more than happy to update the article. I am always ready to correct myself.
Please share this article with your friends and colleagues; this motivates me to write more related topics.
!!! Thank You For Reading !!!