Aerospace Engineering Vs Computer Science Salary. There is no such salary difference in aerospace engineering and computer science and engineering.
The engineers who completed the course are offered good salary packages depending entirely upon the skills and knowledge they consumed while learning.
Engineering is the hot education sector in the world now as the students receive high-paying jobs in the most reputed companies they have dreamed of.
Aviation and computer are by far the most lucrative industries and are in high demand.
Therefore, the need for skilled professionals in these sectors is in high demand. They both receive handsome amounts of salary.
Explain What is Aerospace Engineering?
Aerospace Engineering is a branch of engineering that mainly studies aircraft, spacecraft, missiles, advanced communication technology, radar system, arms, and ammunition.
Aerospace engineering includes designing, maintaining, and manufacturing new and updated aerospace technology with the highest degree of skills and knowledge.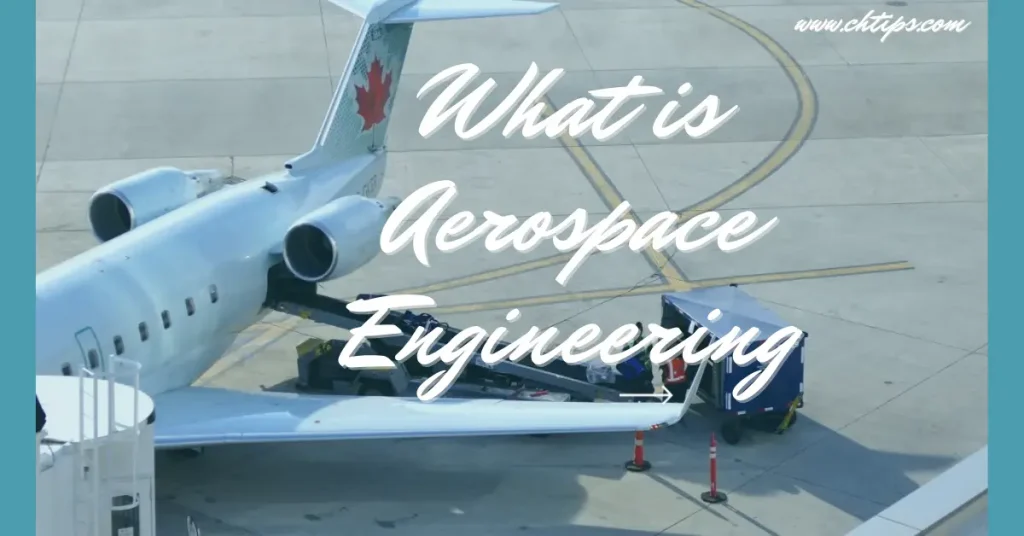 Aerospace engineering is further categorized or divided into two different types
Aeronautical Engineering
Astronautical Engineering
Aerospace Engineering includes the study of mechanical engineering, electronics, and telecommunication.
Aerospace Engineers must study physics, mathematics, computer fundamentals, basic computer programming, computer applications, robotics, geography, etc. 
In the last few years, artificial intelligence and machine learning have gained immense popularity.
Therefore, the latest syllabus has included this subject for the betterment of students.
How to Be Aerospace Engineer?
To become an aerospace engineer in India and abroad, a student or candidate has to pass 12th in the science stream with Physics, Mathematics, Chemistry and English as their primary subjects.
After completing their 12th, they must enroll in any authorized engineering institute that offers courses in Aeronautical Engineering or Astronautical Engineering.
These courses are usually for four years; after completion, students are awarded a B.E. [Bachelor of Engineering] or B. Tech [Bachelor of Technology], B.S. [Bachelor of Science], or any equivalent degree.
The students can also enroll themselves in post-graduate courses like M.Tech [Master of Technology] or M.S [Master of Science], and even a Ph.D. also offered to scholars.
Your score and GPA matter lots before applying to any government and private aeronautical or space research organization like NASA [National Aeronautics and Space Administration] or ISRO [India Space Research Organization].
Jobs Available for Aerospace Engineers
Air force
Government Organization
Private Organization | Corporate Organization
Airlines ( Private | Government)
Aircraft
Airlines
Airships
Defense Sector
Telecommunication 
Missiles Manufacturing and Maintenance.
Satellites
What Kind of Engineering is Aerospace?
Aerospace Engineering is an engineering branch that extensively studies airships, satellites, planes, defense systems, aviation, and helicopters.
Explain What is Computer Science and Engineering?
Computer Science and Engineering is a branch of engineering that studies computer and electronics hardware and software.
This branch of engineering does not study only hardware or software.
The students involved in computer science and engineering study are capable of working in the fields of hardware manufacturing as well as software development firms and organizations.
Computer engineers can develop a product that involves hardware and software, for example, ATMs, mobile phones, video games, play stations, computers, and electronic devices like washing machines and air conditioners.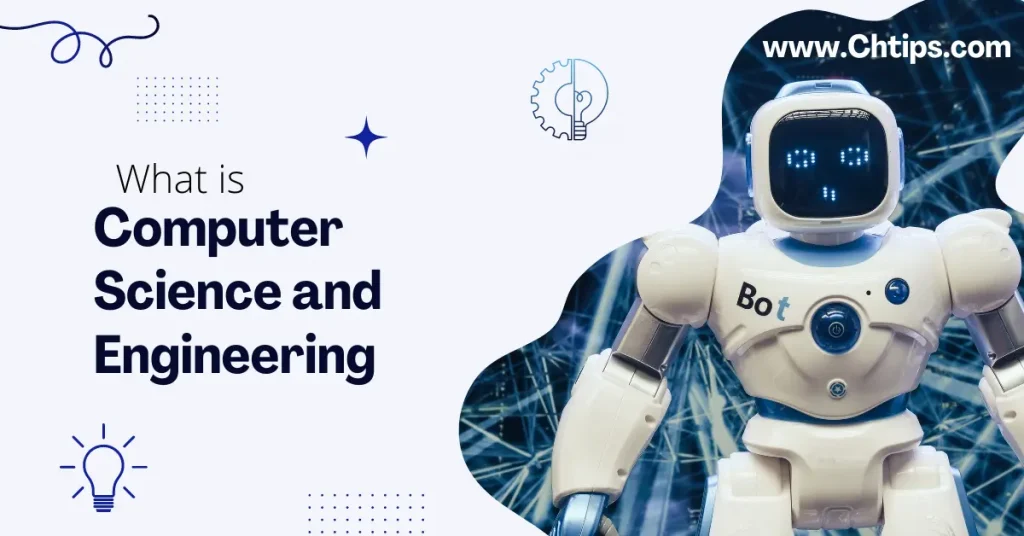 As this product gained popularity, engineers who are good at designing and programming were in high demand and received great salary packages.
Today computer science and engineering is a hot branch for students who want to have a great career and work abroad.
This course allows and enhances students' computer hardware and computer software overall knowledge.
Which leads to becoming good software programming or hardware and component designing engineers.
These engineers are sound in implementing skills learned in the four-year course.
What are Computer Science Engineering Courses?
Diploma in Computer Science and Technology
Diploma in Computer Science and Engineering
Bachelor of Technology (B.Tech) or (B.E.) Bachelor of Engineering in Computer Engineering
Master of Engineering (M.Tech) or (M.E.) Master of Engineering in Computer Engineering
Doctor of Philosophy (Ph.D.) in Computer Science and Engineering
What is the Use of Computer Science Engineering?
System Database Engineer
System Database Analyst
Computer Programmer
Software Developer
Software Engineer
System Analyst
Engineering Support Specialist
System Analyst
Junior Programmer
Front End Developer 
Back End Developer
Data Warehouse Analyst
System Designer
Professor | Lecturer | Trainer
Computer Operator
Research Analyst
Data Structure and Algorithms
Design and Analysis of Algorithms
Distribution Computer System
Software Testing
Renowned Colleges for Computer Engineering in India
IIT KANPUR
IIT DELHI
IIT DHANBAD
NIT WARANGAL
VIT
BITS PILANI
BIT MESRALPU
Top Software Companies in World
Google
Amazon
Facebook
Flip kart
TCS [Tata Consultancy]
Wipro
Samsung
Infosys
Microsoft
Cognizant
VMware
Adobe
Salesforce
Oracle
Paytm
Accenture Services
Yahoo
Compass INC
Aerospace Engineering Vs Computer Science Salary With Infographic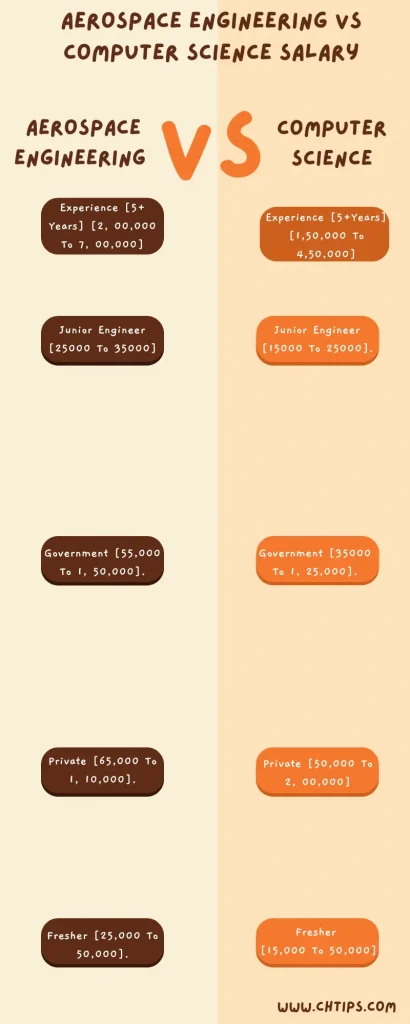 Aerospace Engineering Vs Computer Science Salary Tabular Form
| | | |
| --- | --- | --- |
| # | Aerospace Engineering | Computer Science |
| 1 | Junior Engineer [25000 To 35000]. | Junior Engineer [15000 To 25000]. |
| 2 | Government [55000 To 1, 50,000]. | Government [35000 To 1, 25,000]. |
| 3 | Private [65,000 To 1, 10,000]. | Private [50,000 To 2, 00,000] |
| 4 | Fresher [25,000 To 50,000]. | Fresher [15,000 To 50,000] |
| 5 | Experience [5+ Years] [2, 00,000 To 7, 00,000] | Experience [5+Years] [1,50,000 To 4,50,000] |
Aerospace Engineering Salary in India
Aerospace Engineers can avail of great salary packages depending on their skills and experience.
They can receive 5 lacks to 10 lacks of packages annually.
People Are Also Reading
Frequently Asked Questions [FAQs]
Which Is Better Aerospace or Computer Science Engineering?
In my opinion Computer science and engineering has far more scope compared to aerospace engineering.
Who Earns More Aerospace Engineer or Computer Engineer?
It entirely depends on the skill set of the engineer and the amount of experience he has in his field, also the organization he is working for.
Aerospace Engineers Have the Highest Salary?
Aerospace engineers can get up to 30 to 35 lakhs Per Annum.
What is the Highest Paid Computer Job?
The Data Scientist is the highest-paid job receiving a package of around $1,50,000 /Year
Do Computer Science Engineers Get High-Paying Jobs?
Get In Touch
I have also written and compiled some articles on computers and telecommunications please go through them.
I hope you will like reading it.
I hope that all the questions and queries related to Aerospace Engineering Vs. Computer Science Salary with examples and images have been answered here.
If you have any questions related to Software Engineer Vs. Computer Science.
Don't hesitate to get in touch with me, and if you need to add, remove or update anything from the article, please let me know in the comment section or via email.
I will be more than happy to update the article. I am always ready to correct myself.
Please share this article with your friends and colleagues; this motivates me to write more on related topics.
!!! Thank You !!!