Creating a dos bootable USB Pendrive is an easy task as MS-DOS isn't used that often still there are some cases where we need to boot a computer using a dos bootable USB.
You might be having a problem with BIOS or any other firmware or want to use low-level utilities in those circumstances it would be really helpful if you create one for yourself.
Here in this article, we will be creating a bootable USB using a free program called as RUFUS. It is a free tool but extremely powerful and very easy to use.
You may want to boot your computer or PC from this USB in case need to Reset BIOS password as there are many programs to crack the CMOS password used only with dos bootable disk.
Before some years ago I used to boot my computer using a bootable floppy but nowadays using floppy disk has died no personal computer or even laptops have a floppy disk installed in their cabinets.
Therefore it made me think to create a USB FLASH DRIVE for myself as USB is seen commonly in about all the modern-day computers.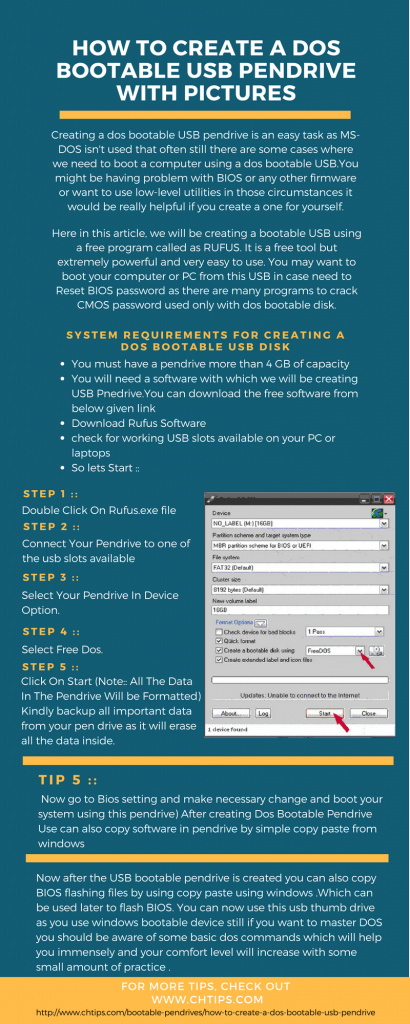 Also Read ::
System Requirements For Creating a Dos Bootable USB Disk
You must have a Pendrive more than 4 GB of capacity
You will need software with which we will be creating USB Pendrive.You can download the free software from the below-given link
Download Rufus Software
check for working USB slots available on your PC or laptops
So lets Start ::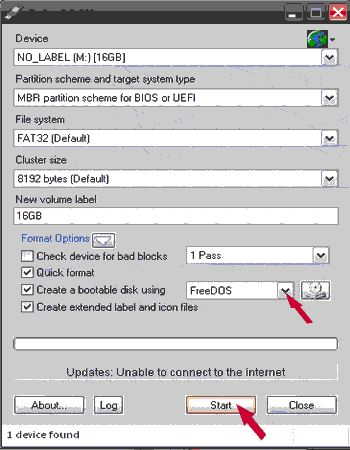 Step 1 :: Double Click On Rufus.exe file
Step 2 :: Connect Your Pendrive to one of the usb slots available
Step 3 :: Select Your Pendrive In Device Option.
Step 4 :: Select Free Dos.
Step 5 :: Click On Start (Note:: All The Data In The Pendrive Will be Formatted) Kindly backup all important data from your pen drive as it will erase all the data inside.
Tip :: Now go to Bios setting and make necessary change and boot your system using this pendrive) After creating Dos Bootable Pendrive Use can also copy software in pendrive by simple copy paste from windows
Now after the USB bootable pendrive is created you can also copy BIOS flashing files by using copy paste using windows .
Which can be used later to flash BIOS. You can now use this USB thumb drive as you use windows bootable device still if you want to master DOS you should be aware of some basic dos commands which will help you immensely and your comfort level will increase with some small amount of practice .