A plotter is considered to be one of the output devices of the computer system. They are used and utilized extensively for designing and printing.
Characteristics of plotters are more prevalent in some professional fields like engineering, drawing illustrations, diagrams, construction maps, architectural plans, engineering drawings, business charts, 3D printing, etc.
They are also used for printing vector graphic images in high resolutions. They are utilized in printing large size of architectural maps, graphs, banners, and charts.
What is Plotter in Computer System?
The plotters are standalone computer devices or peripheral devices. They are considered to be special output devices.
Plotter does not use ink and toner for printing. They use pen, pencil, and marker for printing.
They are well equipped to print large sizes of printing. Plotters are one type of graphic printer that uses ink pens for drawing images.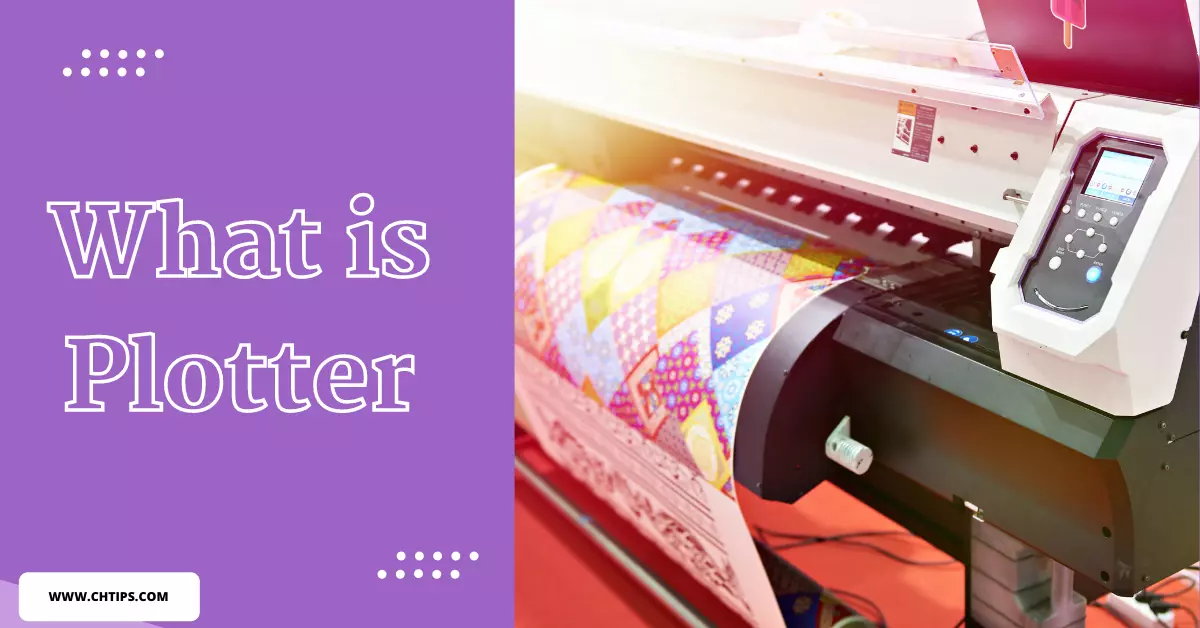 Plotters accept commands from computers.
A plotter takes time to print and is considerably slow compared to printers. These plotters can be connected to computers via USB and Serial Ports.
Plotters are expensive compared to printers, also called "Graph Plotters".
Different Types of Plotters
Drum Plotter
Flatbed Plotter
Inkjet Plotter
Cutting Plotter
Pen Plotter
Thermal Plotter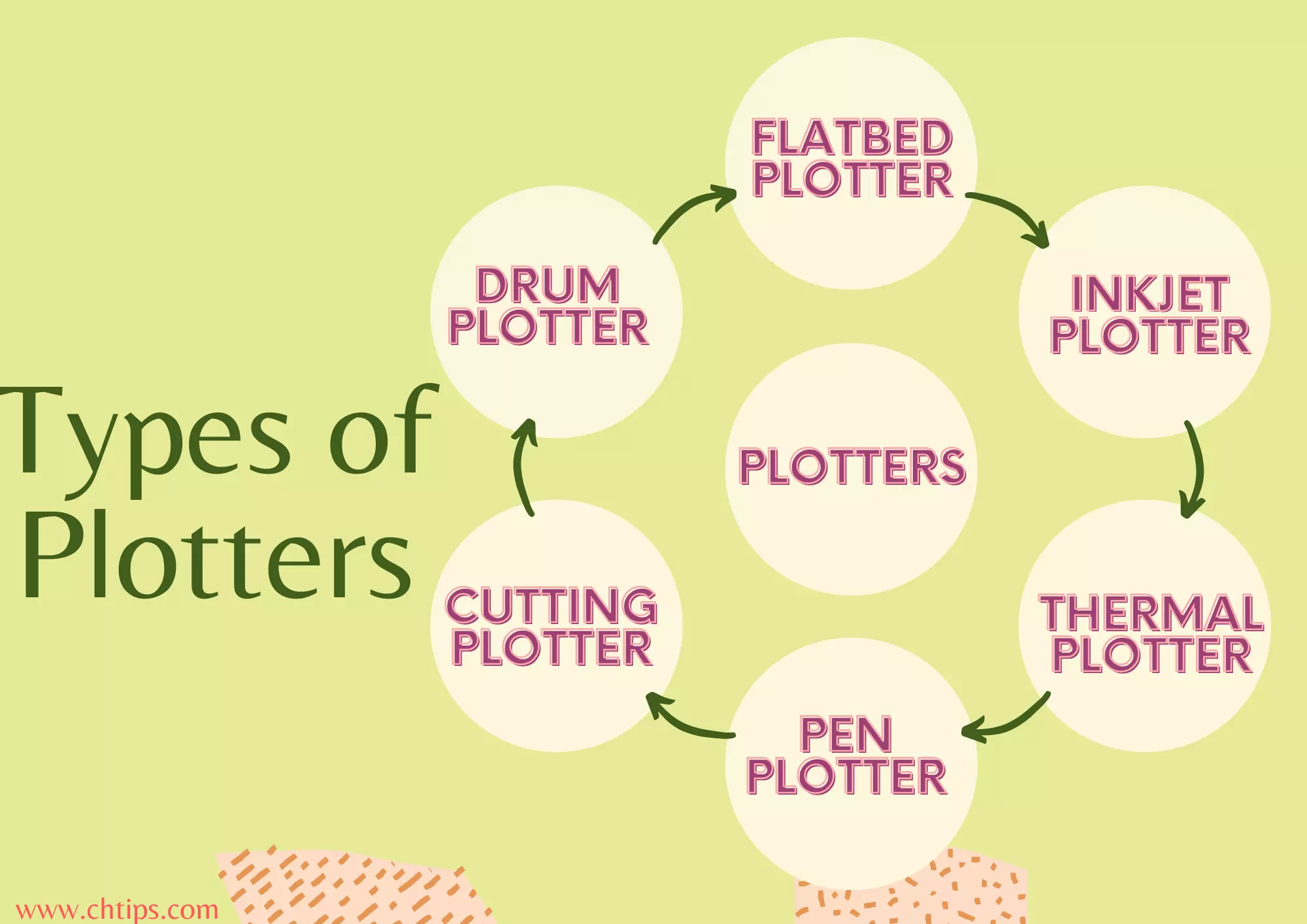 10 Characteristics of a Plotter in Tabular Form
| | |
| --- | --- |
| # | Plotter Characteristics |
| 1 | They produce excellent quality outputs. |
| 2 | They used more advanced printing technology than other printers. |
| 3 | The Plotter can be connected to the computer in different ways, like via USB, Ethernet cable, Bluetooth, etc. |
| 4 | They are enormous and can print large-sized images in high resolutions. |
| 5 | They have internal memory to store instructions given to them. |
| 6 | The results are 100% accurate. |
| 7 | They can print on sheet steel, plywood, aluminum, plastic, cardboard, etc. |
| 8 | They are speedy, reliable, and efficient hardware devices. |
| 9 | They can print with fantastic speed. |
| 10 | The number of professionals use and utilize them in their jobs. |
10 Characteristics of a Plotter


Characteristics of Plotter Explained with Infographic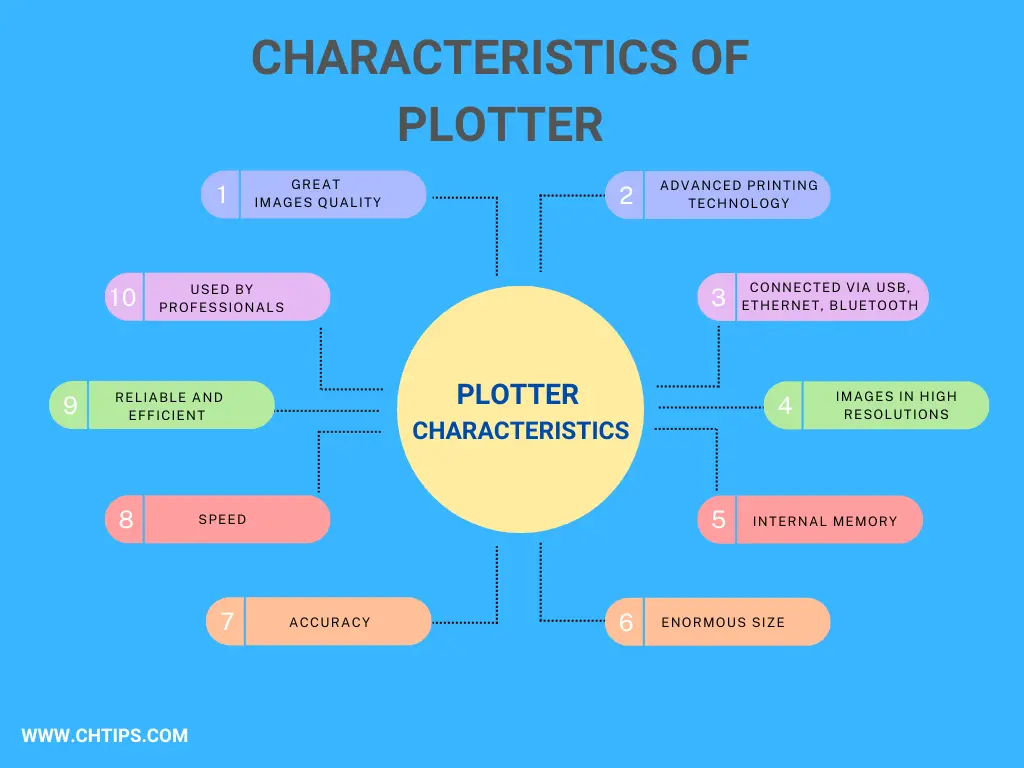 How to Use a Navigation Plotter
Navigation Plotters are considered to be handheld devices that help us to navigate.
This plotter is extensively used and utilized for tracking positions, tracking current directions, wind speed, etc.
Navigation plotters are very helpful devices used on ships or boats.
It uses GPS data and information from satellites to find the exact location of your transport and search for the quickest route to your destination.
The navigation plotter is called a "Chart Plotter" or "GPS".  
These plotters have software embedded that overlay maps onto google earth that can find your location and how far your destination is.
A navigation plotter will help you in navigating from position A to position B.
Major Features of Plotters
There are some silent features associated with plotters that are mentioned below.
Finding your current position.
Finding your destination.
Finding the fastest way or route to your destination.
Getting the exact location on Google Maps.
5 Uses of Plotters
A plotter is used in printing vector images and graphics with high resolutions on paper or any material.
A plotter can draw pictures using a pen.
They are used in CAD [Computer Aided Design] and CAM [Computer Aided Machines].
They are used in drawing illustrations, diagrams, construction maps, architectural plans, engineering drawings, business charts, and 3D printing.
Plotters are used in designing and creating architectural plans for buildings.
They are used by professionals like engineers, architects, and graphics designers.
5 Advantages of Plotter
They can print on huge sheets to obtain results in high resolution with maintaining and preserving DPI.
Plotters can print with fantastic speed.
Plotters work with 100% accuracy.
They produce excellent quality outputs.
They can print a huge number of outputs in less time.
They can print on plastic sheets, wood, aluminum, and steel.
5 Disadvantages of Plotter
They are huge and need ample space for installation.
They are expensive.
They require high maintenance.
They make noise while printing.
Not portable.
What are the Components of a Plotter
Tray
LED Panel
Lid
Covers
Data Cable
Power Cable
Is the Plotter Input or Output Device?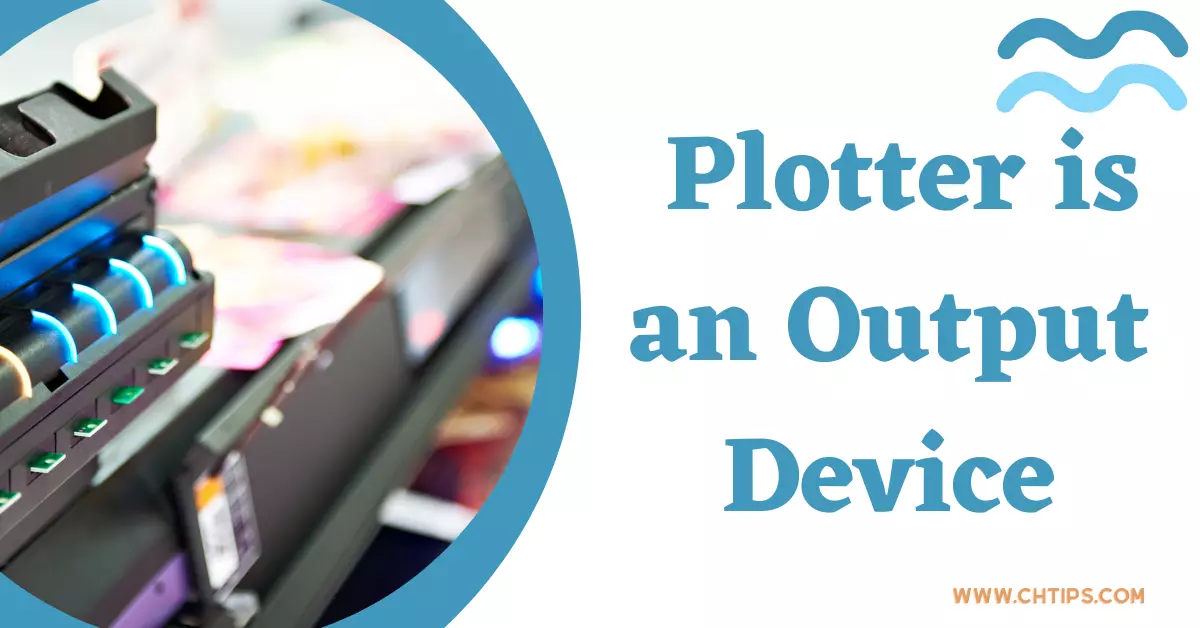 Famous Plotter Manufacturer
Types of Input Devices of Computer System
Keyboard
Mouse
Scanner
Trackball
Joystick
Light Pen
Touch Screens
Optical Card Reader (OCR)
Magnetic Ink Character Recognition (MICR)
Optical Bar Code Reader (OBR)
Voice Recognition Devices
Optical Mark Reader (OMR)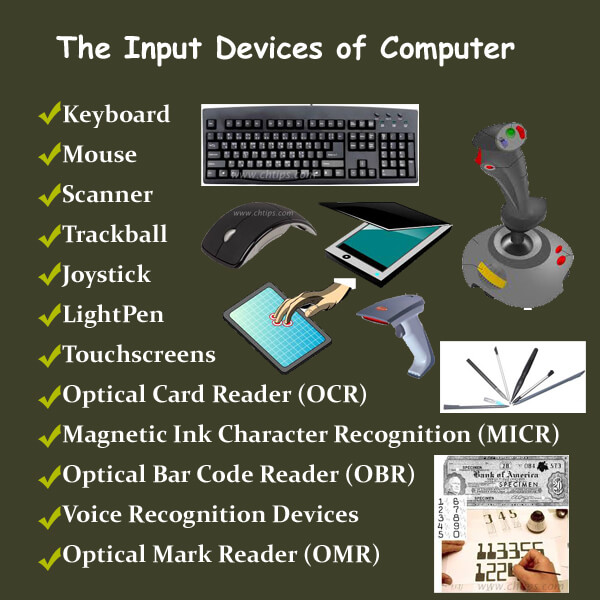 Types of Output Devices of Computer System
Monitors
Touch Screens
LCD Monitors or LED Monitors
Printers
Speakers
Headphones
Sound Cards
Plotters
Projectors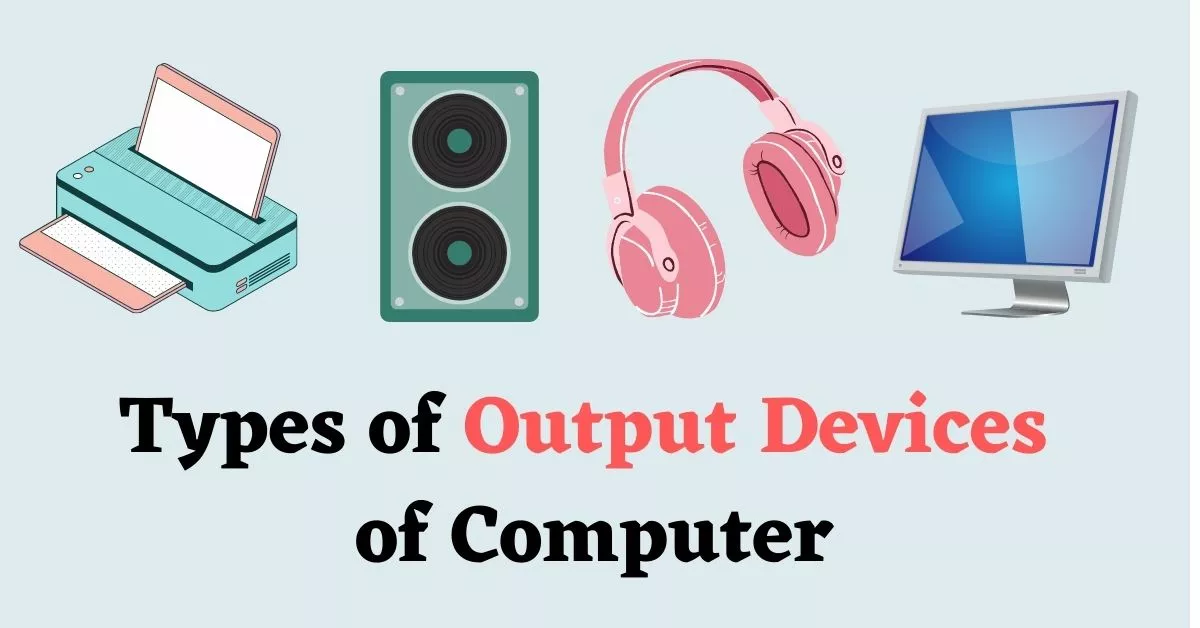 People Are Also Reading
Frequently Asked Questions [FAQs]
Who Invented Plotter
The first Plotter was invented in 1953 by Remington-Rand.
Does Plotter Produce Hard Copy?
Yes, Plotters are devices that can produce hard copy output on paper and permanent medium.
Is Plotter a Storage Device?
No, the Plotter is an output device as it receives instruction from the computer and prints the result on paper or any other medium.
Which Type of Plotter is Best?
HP [Hewlett Packard] produces the best Plotter.
Is a Plotter Better than a Printer?
Plotters are used for drawing illustrations, diagrams, construction maps, architectural plans, engineering drawings, business charts, and 3D printing.
Get In Touch
I have also written and compiled some articles on computers and telecommunications, please go through them.
I hope you will like reading it.
All the questions and queries related to the Characteristics of Plotter with Examples, Images, Advantages, Disadvantages and Types have been answered here.
If you have any queries regarding plotter characteristics.
Please get in touch with me, and if you need to add, remove or update anything from the article, please let me know in the comment section or via email.
I will be more than happy to update the article. I am always ready to correct myself.
Share this article with your friends and colleagues. This motivates me to write more on related topics.
!!! Thank You !!!